This is an archived article and the information in the article may be outdated. Please look at the time stamp on the story to see when it was last updated.
KANSAS CITY, Mo. (WDAF)  – An animal shelter in Missouri says it is now taking care of 12 malnourished kittens that were dropped off at their shelter Thursday morning.
A manager found two large plastic containers at the entrance of the building with holes drilled into the tops.
A handwritten note read, "Please take these kittens and help them find good homes. It's to (sic) many for me. Please and thank you."
According to WDAF,  inside the totes were 12 tiny kittens.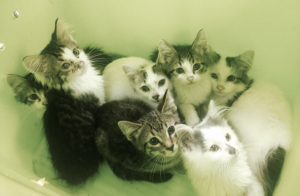 Since the kittens are sick, scared and underweight, they will go into foster care until they are healthy enough to return to the shelter.