This is an archived article and the information in the article may be outdated. Please look at the time stamp on the story to see when it was last updated.
OKLAHOMA CITY,  Okla. – The Time Traveler is Silver Dollar City's new ride, opening March 14th, it's said to be it's biggest attraction ever, with an investment of $26 million.
The amusement park calls the ride the world's fastest, steepest and tallest complete-circuit spinning roller-coaster, also saying that this will mark a new era in coasters. One of the main differences than most of the other attractions at the park is the spin, which is not a teacup-ride type fast spin but a 360-degree that delivers dimension, sensations and perspectives that differ with every car.
The track twists and loops, reaching heights of 100 feet, crossing over itself 14 times in total. Fans of the super-acceleration of launch-rides get two launches on Time Traveler: 0 to 47 mph in 3 seconds, and 30 to 45 mph in 3.5 seconds. Plus, the themed "Time Machine" cars are themselves an industry first, with technology that both creates and limits the spin.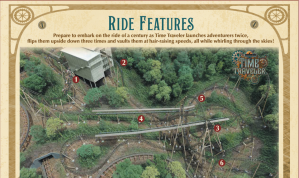 Begin with 360-degree spinning vehicles.
Then, a 10-story drop, 90-degrees.
Next, a high-rise dive loop.
The ride then shoots you to 47 mph in three seconds.
Another vertical loop; 95-feet high.
Finishes off with a Zero-G roll.
"The Time Traveler is a complete package of the latest innovation in steel coasters," said Jeffrey Seifert of Amusement Today magazine. "What makes it unique is spinning vehicles combined with a vertical drop, double launches and multiple inversions. Nothing like this has ever been done before."
This custom-designed, custom-engineered ride that introduces a new generation of thrill coasters for families was more than two years in planning and construction. For concept, design and development, Silver Dollar City chose renowned coaster manufacturer Mack Rides of Waldkirch, Germany, founded in 1780 and family owned for eight generations.
"The car is the most advanced roller coaster car in the industry," said Christian von Elverfeldt. "Featuring a free-spinning rotation on a launched roller coaster. For the utmost comfort, an on-board magnetic brake limits the rotation speed to allow the most enjoyable ride experience for all ages."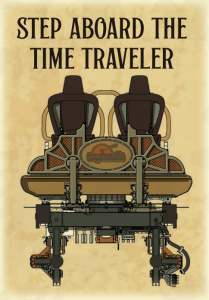 And unlike most coasters that begin with a slow, chain-clacking ride to the top of a lift, The Time Traveler starts in the first seconds of the ride with a hushed rush, as the cars leave the load station with a spin and a 10-story drop straight down, racing down a mountainside and through the trees in the mountainous terrain.
"This coaster's state-of-the-art controlled spin feature provides riders a unique thrill experience while still appealing to families," said Brad Thomas, President of Silver Dollar City Attractions. "Since Silver Dollar City's opening day in 1960, guests have taken a journey back in time with unique and world-class experiences. We strive daily to continue that tradition through our rides, our festivals, our crafts and our food. That pursuit continues in 2018 with Time Traveler , a revolutionary coaster ahead of our time."
Opening day is almost here! 👏🏻🎢🎉 Get your season pass before park opens for unlimited visits all year long. https://t.co/5hoP56GUYq pic.twitter.com/woxNTB0Ey3

— Silver Dollar City (@SDCAttractions) March 7, 2018
Silver Dollar City's ride, 'Outlaw Run' was featured in the 2013 Guinness World Book of Records. The park opens to the public March 14, for more information or tickets, go to silverdollarcity.com.