This is an archived article and the information in the article may be outdated. Please look at the time stamp on the story to see when it was last updated.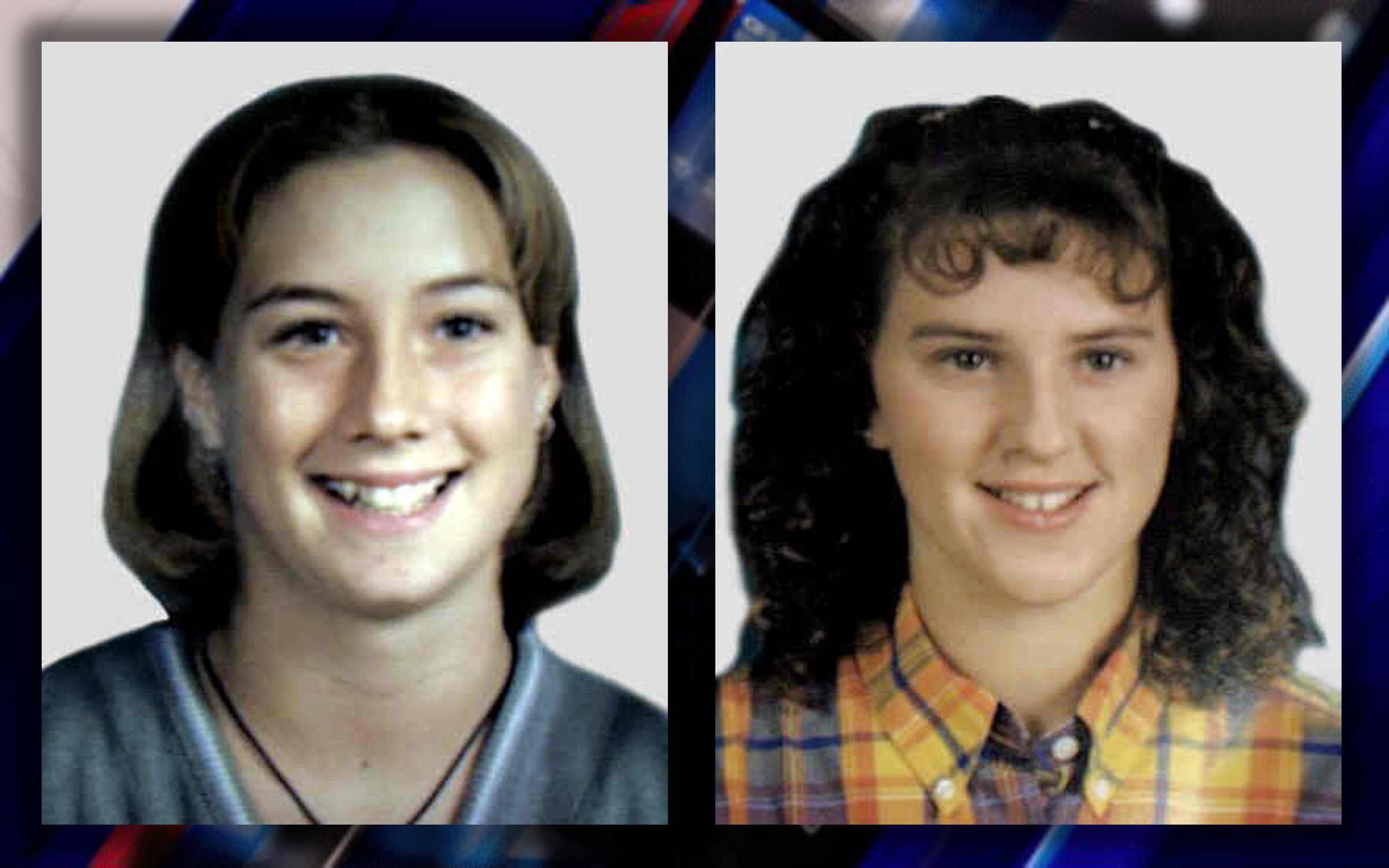 WELCH, Okla. – State authorities are hoping someone will come forward with information in the cold case of two Oklahoma girls who have been missing for nearly 18 years.
Lauria Bible and her friend Ashley Freeman, both 16, disappeared in December 1999.
Lauria was at Ashley's home for a sleepover.
That night, the Freeman's mobile home went up in flames, and the charred remains of Ashley's parents, Danny and Kathy Freeman, were found inside, according to the Miami News-Record.
Danny and Kathy both suffered gunshot wounds to the head, an autopsy showed.
But Lauria and Ashley were nowhere to be found.
Now, authorities are hoping new leads will help them close this 18-year-old cold case.
Lauria's mother, Lorene Bible, recently posted to Facebook asking anyone with information on the teens' disappearance to contact law enforcement.
One man who is currently on death row, Jeremy Jones, claims he killed the girls.
However, he was not able to convince authorities that it was him.
Now, the Oklahoma State Bureau of Investigation has released playing cards featuring Danny Freeman, Kathy Freeman, Ashley Freeman and Lauria Bible, hoping someone who see the cards will have information on the case.
December 30, 1999, Danny Freeman and his wife Kathy were found shot to death inside their burned home in Welch. Their teenage daughter Ashley and her friend Lauria Bible went missing. The case remains unsolved and, while OSBI has received many tips on their whereabouts, the girls have never been located. If anyone has information about the murders, arson, or kidnapping, please call the OSBI hotline at 1-800-522-8017 or email the tip line at tips@osbi.ok.gov. 
Earlier this month, OSBI announced it is partnering with the Department of Corrections to launch a new program aimed at solving unsolved cold cases in our state.
The cold cases span decades, from 1978 to 2013.
Now, what authorities know about each of the 52 cold cases can be found inside a deck of playing cards.
Officials are sharing the deck of cards around the state in hopes of finding someone with information that could solve a case.
OSBI officials said, due to Oklahoma's large prison population, they know some of the individuals involved in the cases may be incarcerated.
So, they're partnering with DOC and selling the playing cards to inmates within the facilities.
State officials are hoping the cards will bring closure to loved ones who are still looking for answers.
OSBI is already choosing more cases for the second deck. The deck will include OSBI, Norman PD, Oklahoma City PD and Tulsa PD cold cases.
[protected-iframe id="724eb5e8038600f0f187c5e30ffa1fb9-29519643-62065474″ info="http://w3.cdn.anvato.net/player/prod/v3/anvload.html?key=eyIzNjAiOmZhbHNlLCJtIjoiYW52IiwicCI6ImRlZmF1bHQiLCJ2IjoiMzcyMTExNCIsImFudmFjayI6ImFudmF0b19jb3hfYXBwX3dlYl9wcm9kX2NlNDVjZGEyMzc5NjlmOTNlNzEzMGY1MGVlOGJiNjI4MGMxNDg0YWIiLCJwbHVnaW5zIjp7ImRmcCI6eyJjbGllbnRTaWRlIjp7ImFkVGFnVXJsIjoiaHR0cHM6Ly9wdWJhZHMuZy5kb3VibGVjbGljay5uZXQvZ2FtcGFkL2Fkcz9zej00MDB4MzAwJml1PS8xMjUyMzI5My9UdWxzYV9UVi9rb2tpX3dlYl9kZWZhdWx0L25ld3MmaW1wbD1zJmdkZnBfcmVxPTEmZW52PXZwJm91dHB1dD12YXN0JnVudmlld2VkX3Bvc2l0aW9uX3N0YXJ0PTEmY29udGVudF9wYWdlX3VybD1bcmVmZXJyZXJfdXJsXSZkZXNjcmlwdGlvbl91cmw9W3JlZmVycmVyX3VybF0mY29ycmVsYXRvcj1bdGltZXN0YW1wXSZ2aWQ9QU5WX0FOVl8zNzIxMTE0JmNtc2lkPTE4MjkzIiwia2V5VmFsdWVzIjp7InRpdGxlIjoiVklERU86IFdlbGNoIGNvbGQgY2FzZSBzZW5kcyBpbnZlc3RpZ2F0b3JzIHRvIEthbnNhcyIsInRhZyI6ImZveDIzIG5ld3MsTmV3cyxMb2NhbCIsInRvcGljcyI6ImZveDIzIG5ld3MsTmV3cyxMb2NhbCIsImt3IjoiZm94MjMgbmV3cyxOZXdzLExvY2FsIiwic2t5IjoiT3ZlcmNhc3QiLCJ3ZWF0aGVyIjoiIiwidGVtcF9yYW5nZSI6IjcwIHRvIDc0IiwicGxheWVyX2lkIjoibWl4ZWRfbWVkaWFfdmlkZW9fdmlkX2lkMzk0NTc4NTgwXzE2NjEyM19wbGF5ZXIiLCJ2aWRlbyI6IjM3MjExMTQiLCJvd25lcl9pZCI6IltbT1dORVJfSURdXSIsIm9ial90eXBlIjoic3RvcnkiLCJjYXRlZ29yeSI6Ik5ld3MsTG9jYWwiLCJvYmpfaWQiOiIzOTQ0NDU3NDUifSwibWFjcm9zIjp7InJlZmVycmVyX3VybCI6Imh0dHA6Ly93d3cuZm94MjMuY29tL25ld3Mvd2VsY2gtY29sZC1jYXNlLXNlbmRzLWludmVzdGlnYXRvcnMtdG8ta2Fuc2FzLzM5NDQ0NTc0NSJ9fX0sImNvbXNjb3JlIjp7ImNsaWVudElkIjoiNjAzNTk0NCJ9LCJyZWFsVGltZUFuYWx5dGljcyI6dHJ1ZSwiaGVhcnRiZWF0QmV0YSI6eyJ2ZXJzaW9uIjoiMS41IiwibWFya2V0aW5nQ2xvdWRJZCI6IjE0NjIzNEI4NTI3ODM1RTEwQTQ5MEQ0NEBBZG9iZU9yZyIsImN1c3RvbVRyYWNraW5nU2VydmVyIjoiY294bmV0LjExMi4ybzcubmV0IiwidHJhY2tpbmdTZXJ2ZXIiOiJjb3huZXQuaGIub210cmRjLm5ldCIsImpvYklkIjoiajIiLCJhY2NvdW50IjoiY294a29raXR2LGNveGdsb2JhbCIsInB1Ymxpc2hlcklkIjoiY294bmV0IiwiY3VzdG9tTWV0YWRhdGEiOnsidmlkZW8iOnsicGFnZU5hbWUiOiIvbmV3cy93ZWxjaC1jb2xkLWNhc2Utc2VuZHMtaW52ZXN0aWdhdG9ycy10by1rYW5zYXMvMzk0NDQ1NzQ1IiwicGFnZVNpdGVTZWN0aW9uIjoiTmV3cyIsInBhZ2VDYXRlZ29yeSI6IiIsInBhZ2VTdWJDYXRlZ29yeSI6IiIsInBhZ2VDb250ZW50VHlwZSI6InZpZGVvIiwicGFnZVRpdGxlIjoiS09LSSAtIFdlbGNoIGNvbGQgY2FzZSBzZW5kcyBpbnZlc3RpZ2F0b3JzIHRvIEthbnNhcyAtIFN0b3J5Iiwic2l0ZVZlcnNpb24iOiJyZXNwb25zaXZlIHNpdGUiLCJzaXRlRG9tYWluIjoiZm94MjMuY29tIiwic2l0ZUZvcm1hdCI6InR2Iiwic2l0ZU1ldHJvIjoib2s6IHR1bHNhIiwic2l0ZU1lZGl1bSI6InR2Iiwic2l0ZUlEIjoia29raS10diIsInNpdGVUeXBlIjoibWFpbiIsInNpdGVDTVMiOiJsYWthbmEiLCJ1c2VyU3RhdHVzIjoibm90IHJlZ2lzdGVyZWQiLCJ1c2VyUHJvZmlsZUlEIjoiIiwidXNlckFjdGl2ZSI6Im5vdCBsb2dnZWQtaW4iLCJ1c2VyVHlwZSI6ImFub255bW91cyIsImNvbnRlbnRUb3BpY3MiOiJuZXdzLHZpZGVvIiwiY29udGVudEJ5bGluZSI6IiIsImNvbnRlbnRJRCI6IjM5NDU3ODU4MCIsImNvbnRlbnRWZW5kb3IiOiIifSwiY2hhcHRlciI6e30sImFkIjp7fX0sInBhcmVudFBhZ2VVUkwiOiJodHRwOi8vd3d3LmZveDIzLmNvbS9uZXdzL3dlbGNoLWNvbGQtY2FzZS1zZW5kcy1pbnZlc3RpZ2F0b3JzLXRvLWthbnNhcy8zOTQ0NDU3NDUiLCJwYXJlbnRUaXRsZSI6IldlbGNoIGNvbGQgY2FzZSBzZW5kcyBpbnZlc3RpZ2F0b3JzIHRvIEthbnNhcyB8IEZPWDIzIiwicEluc3RhbmNlIjoibWl4ZWRfbWVkaWFfdmlkZW9fdmlkX2lkMzk0NTc4NTgwXzE2NjEyM19wbGF5ZXIiLCJwcm9maWxlIjoiY294In19LCJodG1sNSI6dHJ1ZX0%3D" width="640″ height="360″ frameborder="0″ scrolling="no" webkitallowfullscreen="" mozallowfullscreen="" allowfullscreen=""]