This is an archived article and the information in the article may be outdated. Please look at the time stamp on the story to see when it was last updated.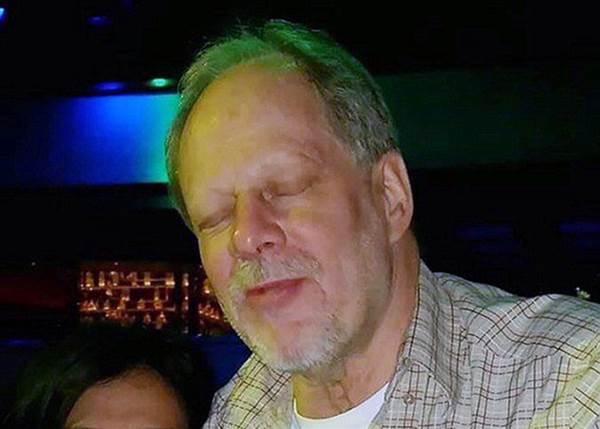 Who was Stephen Paddock, the man police say killed more than 50 people on the Las Vegas Strip?
Paddock, 64, was found dead in his room on the 32nd floor of the Mandalay Bay Resort and Casino in Las Vegas when a police SWAT team broke down the door. Sheriff Joseph Lombardo said authorities believe Paddock killed himself.
Officers found at least 10 rifles in the room. Police don't think anybody else was involved in the shooting.
Paddock had been at the hotel since Thursday, Lombardo said. Authorities said it appears he fired guns from his room into the crowd at the Route 91 Harvest music festival on Sunday night, killing least 58 and wounding over 500.
Lived in Mesquite
Paddock had been living in Mesquite, 80 miles northeast of Las Vegas. The town of 18,000 people is a retiree community with several casinos and golf courses.
Authorities searched his home Monday and found weapons and ammunition, but Mesquite police spokesman Quinn Averett did not give details. Averett didn't know how long Paddock had lived in the area.
Latest news on Las Vegas massacre
"What's unique for us is the gunman, the shooter, and the person with him, we in the Mesquite Police Department have not had any contact with these people in the past. We haven't had any traffic stops, any law enforcement contact, no arrests or nothing," Averett said.
Law enforcement has no "derogatory information" about Paddock, besides the fact that he received a citation several years ago that was handled in the court system, Lombardo said.
Seeking a motive
Lombardo did not call the shooting an act of terrorism.
"We have to establish what his motivation was first," Lombardo said. "There's motivating factors associated with terrorism other than a distraught person just intending to cause mass casualties. Before we label with that, it'll be a matter of process."
Brother: 'Like an asteroid'
Paddock's brother, Eric Paddock of Orlando, Florida, told CNN he was blindsided by the news.
"He was my brother and it's like an asteroid fell out of the sky," he said.
He last communicated with his brother when Stephen texted to ask about their mother, who'd lost power during Hurricane Irma. Eric Paddock said Stephen spoke to his mother on the phone a week or two ago.
The brother said he knew Stephen Paddock had a couple of handguns and maybe one long rifle but did not know of any automatic weapons. Stephen Paddock did not have a machine gun when he moved him from Melbourne to Mesquite, Eric Paddock said.
Jason Aldean describes 'horrific' scene
Had pilot's license
Marilou Danley was identified as Paddock's companion or roommate, Lombardo said. She does not appear to have been involved in the shooting and was in the Philippines when the shooting took place, authorities said. Paddock had been using some of her identification, Lombardo said.
Paddock had a private pilot's license and the FAA is gathering his records, according to FAA spokeswoman Laura Brown.
So far, authorities have found no military records for Stephen Paddock.
[protected-iframe id="5e27ff0b15c3c71c3351e6f26c4e2ba6-29519643-62065474″ info="https://www.nbcnews.com/widget/video-embed/1059679811695″ width="560″ height="315″ frameborder="0″ allowfullscreen=""]