This is an archived article and the information in the article may be outdated. Please look at the time stamp on the story to see when it was last updated.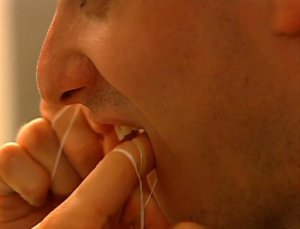 Your teeth are more than just something to chew and smile with.
Research is increasingly showing they can have an effect on your overall health.
Many Americans think their poor oral health is holding them back.
In a 2015 survey by the American Dental Association, 20 percent of low-income adults said their mouths and teeth were in bad condition, and 20 percent of all adults said their unhealthy mouths caused them anxiety, according to Marko Vujicic, chief economist for the association's Health Policy Institute, who helped conduct the survey.
One thing you may not have to worry about is daily flossing.
Recently, the Associated Press investigated the dental association's statement that "interdental cleaners such as floss are an essential part of taking care of your teeth and gums" and found weak scientific evidence to support this claim.
That said, the most common oral ailments are cavities and gum disease.
According to the Centers for Disease Control and Prevention, about 91 percent of adults have tooth decay, and nearly half of adults have periodontal disease, an advanced form of gum disease caused by overgrowth of bacteria-filled plaque on teeth.
Periodontal disease leads to inflammation in the mouth and can destroy the bones that support teeth.
Anyone who has had a cavity or periodontal disease is probably familiar with the pain and possibly embarrassment from the resulting bad breath, discolored teeth and tooth loss.
But, what many do not know is these problems may not be confined to their mouths.
"A prevailing opinion among the public for many years is that a tooth is just a tooth," said Sally J. Cram, a periodontist in Washington. "Now, we are understanding that, when you have inflammation and disease in your mouth, the mouth is connected to your whole body, and inflammation can spread to the rest of the body."
A "ton of studies" show people who have periodontal disease are at higher risk of developing diabetes and having heart disease, said Cram, a spokeswoman and consumer adviser for the American Dental Association.
However, the research comes short of demonstrating poor oral health actually causes these diseases.
Many of the risk factors for periodontal disease, such as age, weight and smoking and alcohol use, also increase the risk of heart disease, so it is difficult to know whether periodontal disease itself is responsible for heart disease, according to an American Heart Association statement.
And, while there is good evidence uncontrolled diabetes can drive up the risk of periodontal disease – probably because elevated blood sugar helps feed the bacteria that cause periodontal disease – it is less clear whether the relationship goes in the other direction.
Canaries in the coal mine
Even if gum disease itself doesn't cause a person to develop heart disease or diabetes, treating gum disease could improve the management of these other diseases.
It could be apt to think of your teeth as the canaries in the coal mine of your overall health, Cram said.
People with diabetes are about three times more likely to experience complications such as kidney disease if they have severe periodontal disease, possibly because of the inflammation associated with periodontal disease.
One study found patients with diabetes, heart disease or a history of stroke had fewer hospitalizations for those conditions if they had received treatment for gum disease, compared with people who had untreated gum disease.
Cram talks with her patients about how good dental hygiene can reduce inflammation in the rest of their bodies and possibly lower their risk of diseases.
"If you have a history (of heart disease) in your family, you need to be a little more careful to make sure you are brushing (at least twice a day), flossing (once a day) and having regular checkups," she said.
Cram recommends the American Dental Association's page Mouth Healthy, which lists dental hygiene tips and common concerns for different age groups.
Of the recent AP investigation, Cram said "I am a periodontist, so I deal with gum disease every day, and there's lots of studies showing that plaque building up between the teeth does cause gum disease."
She explained removal of the bacteria-containing plaque every 24 hours prevents gum disease, so she strongly encourages her patients to floss or use some kind of cleaning device daily, because a toothbrush cannot effectively clean between teeth.
According to a statement from Deborah M. Lyle, a dental hygienist and director of professional and clinical affairs for Waterpik, water flossers have been proved to be more effective than string floss in several clinical trials, though the crucial issue is cleaning between teeth and below the gumline to get rid of bacteria.
Matthew Messina, an adviser with the American Dental Association, presents the case in favor of flossing in simple terms.
Two generations ago, most people had dentures by their 60s or 70s.
Today, most people live even longer than that, and the majority die with most, if not all, of their teeth.
"We'd had a quantum leap in dental health," said Messina, an Ohio dentist in private practice for more than 30 years. "Flossing has been an important component of that."
For those who doubt the wisdom of flossing each day, he suggested a simple test: Brush really well, and then floss to see what comes out.
Once a person develops periodontal disease, it is much harder to manage, Cram said.
Therapies such as deep cleaning, antibiotics and gum surgery can help get it under control, but those people will always be at higher risk of developing the disease again, she added.
Clean your mouth before surgery
Although questions remain about how oral health contributes to overall health, doctors have become particularly concerned about oral health for certain populations.
More and more orthopedic surgeons now require patients to get clearance from a periodontist before having joint replacement surgery, Cram said.
The reason is bacteria from periodontal disease can circulate in the body and lodge onto the prosthetic joint and, if the infection becomes severe, they can even cause the joint to have to be removed, Cram said.
"If you have bad teeth or an infection in your mouth, it is common for (surgeons) to say 'I want it under control,'" she said.
Similarly, doctors often require patients to get clearance from a dentist before they have an organ transplant.
"After a transplant, when you are on all those anti-rejection drugs, they want to make sure you don't have anything" because the drugs suppress the immune system and could make it harder to control infections in the mouth, Cram said.
However, experts have raised questions about whether preoperative dental cleanup benefits patients.
Even though the practice is common, there have not been many studies looking at whether it improves outcomes.
Nevertheless, research groups still recommend patients get dental clearance.
"Whenever possible, all active dental disease should be eliminated before transplantation," according to the National Institute of Dental and Craniofacial Research.
More Americans need access to dental health care
"We don't need to convince people that oral health is important. That came through loud and clear" on the 2015 survey, Vujicic said. "(But,) I don't think the health policy world has responded to that, and that is the next big push."
About a third of Americans between the ages of 19 and 64 have no dental benefits, according to a report from the American Dental Association.
About 56 percent have private dental insurance, and 10 percent have some dental benefits through Medicaid.
But, among the insured, copays can be high even for basic services such as having a cavity filled, Vujicic said.
And, most Americans said cost is the main reason they do not get dental care.
The Affordable Care Act will probably do little to increase the number of Americans with dental insurance.
Vujicic and his colleagues reviewed the plans for adults on the Health Insurance Marketplace and found only 1 percent of them include dental coverage; people can select a stand-alone dental plan on the Marketplace, but they would have to pay a separate premium.
"The ACA has reinforced the separation" of dental health and whole body health, Vujicic said.
The separation dates to the 1960s, when the federal government was creating the first Medicaid programs.
Twenty-two states still do not offer dental benefits for adults through Medicaid.
In contrast, states are required to provide dental benefits to children through their Medicaid programs, and 28 percent of the plans on the Health Insurance Marketplace include dental coverage for children.
The rates of uninsured are nearly three times lower, about 12 percent, among children compared with adults in the United States.
"We disconnect the mouth from the body when people turn into adults," Vujicic said.
It gets even worse for adults older than 65: Medicare programs do not cover any wellness visits or routine dental care, he added.
More than 60 percent of adults 65 and older did not have dental insurance in 2013.
However, Vujicic is hopeful the number of Americans who have dental benefits will rise, partly because of the growing evidence that oral health could improve other health outcomes.
An analysis by him and his colleagues suggested insurance companies could save $1,799 in health care costs in the first few years after a patient is diagnosed with diabetes by providing periodontal care.