This is an archived article and the information in the article may be outdated. Please look at the time stamp on the story to see when it was last updated.
OKLAHOMA CITY –  Did you hear them?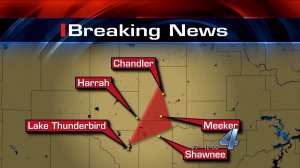 NewsChannel 4 was flooded with calls and comments from viewers on Thursday morning about loud booms in parts of Oklahoma.
Calls came in from all over Oklahoma, including Newalla, Norman, Meeker, Lake Draper, Shawnee, Wellston, Agra and Parkland.
However, most of the calls have been centered around the 9000 block of Tecumseh.
@NWSNorman you hearing the low rumbles?

— buspilot (@Badnikl) January 8, 2015
@kfor Heard it in Newalla, sounded like it came from the east. Could have been an echo. Around 20 minutes ago.

— John Stotts (@OkieStotts) January 8, 2015
Several Oklahoma law enforcement agencies from Lincoln, Cleveland, McClain, Pottawatomie and Oklahoma counties attempted to locate the source of the booms.
However, nothing out the ordinary was ever found.
Instead, there is some speculation that the cold weather is the culprit.
According to The Washington Post,  there's something called a 'cold boom.'
It's technically called a cryoseismic boom, which is a mini explosion within the ground caused by the rapid expansion of frozen water.
The phenomenon only happens when it's cold, according to scientists.
The boom sounds similar to a sonic boom.
"It turns out these 'cold booms' are a fascinating phenomena and it really all began with that pretty decent rain we had last week. That rainfall soaked into the ground," said NewsChannel 4 chief meteorologist Mike Morgan. "Well, then we had this rapid freezing of the temperature. When you go from a liquid to a solid, it gets larger. Well turns out, when it goes to an ice phase, it has no place to go, so it shows up as a 'cold boom' and actually causes a miniature explosion in the ground."
The Oklahoma Geological Survey says it has not received any reports of mysterious noises or unusual activity.
This is a developing story.  Please refresh this page often for updates.