This is an archived article and the information in the article may be outdated. Please look at the time stamp on the story to see when it was last updated.
OKLAHOMA CITY – We first introduced you to 9-year-old Macie Greene last month when we told you about her family's quest to win a handicap accessible van.
Macie has a rare neurological disorder, Rett Syndrome, that keeps her confined to a wheelchair.
Getting her to and from doctor appointments was becoming increasingly difficult but her family couldn't afford a handicap van.
So they had entered an online contest and were trying to recruit people to vote for them twice a day.
But a simple phone call changed all that and meant the Greenes didn't need the contest after all.
"I was running errands and I remember exactly where I was at when I answered the phone," Macie's mom Brenda Greene said.
The woman on the other end of the line said she'd seen their story.
Her next words left Brenda speechless.
"'My husband and I would like to buy you a van,' and I mean I was just, and she goes, 'I want to get this van, we want to do this now. We don't want you to have to wait until the contest is over,'" Brenda Greene said.
A couple of weeks later, the Greenes had their van with ramp access for Macie's wheelchair.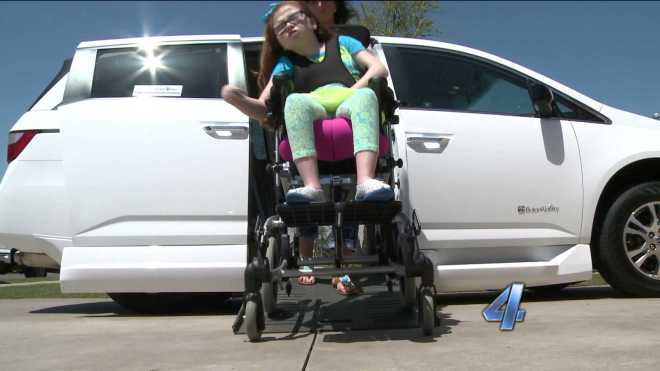 She doesn't even have to get out of the chair.
It glides right in and they buckle her in the seat.
"It's so much easier, it is, it really is," Brenda said. "It's just a matter of pushing her out to the van, pushing the remote for the ramp to come open."
The donors of the van want to remain anonymous to the public but the Greenes got to meet them at the dealership the day they got the van.
"We were pretty blown away by it," Macie's day Mike Greene said. "Just the generosity of them wanting to do something like this."
The Greenes plan to withdraw from the online contest so another family needing a handicap van can have the chance to win.
They said they're so appreciative of the couple who bought the van, they also value the hundreds of people who had been voting for them in the contest all along.
"I think if people financially had the way, could give us a van, they would've done it," Brenda said. "More people would've done it but they could vote and that was their way of giving and to me, that's huge."