This is an archived article and the information in the article may be outdated. Please look at the time stamp on the story to see when it was last updated.
NORMAN, Okla. – Strong storms moved through central Oklahoma on Thursday, which left minor damage in several cities.
During the storms, a power pole snapped near Flood Ave. and Topeka St. in Norman.
High winds cracked the pole and the power lines came to rest on a neighboring business sign.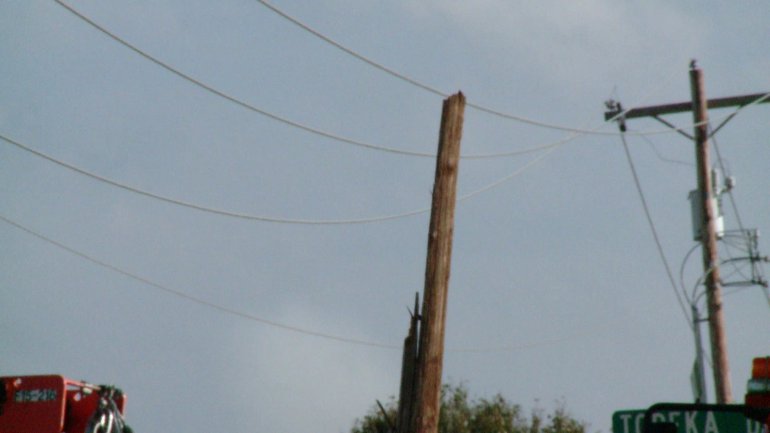 OG&E crews were on scene to install a new pole and remount the power lines.
Across the state,  KFOR storm tracker Reed Timmer captured video of a power pole falling, creating power flashes near the town of Ringling.
Some areas saw stronger wind gusts, which resulted in more damage.
Thx to our viewer Debbie for sharing this pic of wind damage earlier this afternoon in Ryan, OK! @kfor @NWSNorman pic.twitter.com/E29ZjkU3qQ

— Emily Sutton (@emilyrsutton) November 5, 2015
Check out the downed power lines in Harrah, OK! https://t.co/sQQfY9SKdJ pic.twitter.com/LQrg6FItaq

— Emily Sutton (@emilyrsutton) November 5, 2015
@emilyrsutton my sons house in Norman pic.twitter.com/wnYH48ft0x

— Kelly Bartlett (@KLBartlett) November 5, 2015