This is an archived article and the information in the article may be outdated. Please look at the time stamp on the story to see when it was last updated.
[protected-iframe id="3c0f5df772fa25d57a58982be93afb4c-29519643-31344442″ info="http://WXIX.images.worldnow.com/interface/js/WNVideo.js?rnd=227404;hostDomain=www.fox19.com;playerWidth=630;playerHeight=385;isShowIcon=true;clipId=11404556;flvUri=;partnerclipid=;adTag=News;advertisingZone=;enableAds=true;landingPage=;islandingPageoverride=false;playerType=STANDARD_EMBEDDEDscript;controlsType=fixed;galleryType=wnstory;galleryId=28815493″ ]
BATAVIA, Ohio –  A young girl in junior high was shocked when she looked at a copy of her class picture.
It is said that a picture is worth a thousand words, but one word got people talking about this picture.
"I sat down. No one said anything to me," said Sophia Thomas.
Thomas was getting ready to be a part of her eighth grade class photo at Clermont Northeastern Middle School.
After the picture was ordered, Thomas learned that a bit of retouching had been done to her outfit.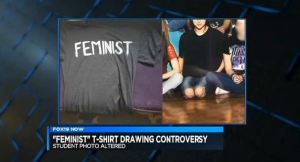 "I checked it to make sure I didn't look dumb or anything, closing my eyes. I saw that they had removed the word from my shirt and I was insanely upset," she told WXIX.
While taking the picture, Thomas was wearing a shirt with the word 'feminist' on it.
Principal Kendra Young says while the shirt doesn't violate the school's dress code, she decided to alter the image.
"It was mine and the photographer's decision to Photoshop your shirt because some people might find it offensive," said Thomas.
Young says the photo is typically purchased by students and is displayed in the school. She said she wanted to keep it as least controversial as possible.
"They didn't inform me about this. They just did it without any permission," Thomas said. "I was just showing everybody that this is me, and if you don't like it, you don't have to be my friend. But I'm going to stand up for what I believe in."
See a mistake? Report a typo here.