This is an archived article and the information in the article may be outdated. Please look at the time stamp on the story to see when it was last updated.
OKLAHOMA CITY, Okla. - A new study by the CATO Institute claims that Oklahoma is one of 35 states in which you could make more money by sitting at home collecting welfare than actually going to work for minimum wage.
Mother of five, Mechelle Wilson, couldn't imagine living off of $7.25 an hour.
"I wouldn't be able to because I have five children," said Wilson. "I wouldn't even be able to raise me on $7.25. Yeah, so I salute the women who are doing it."
There are those out there who have no choice.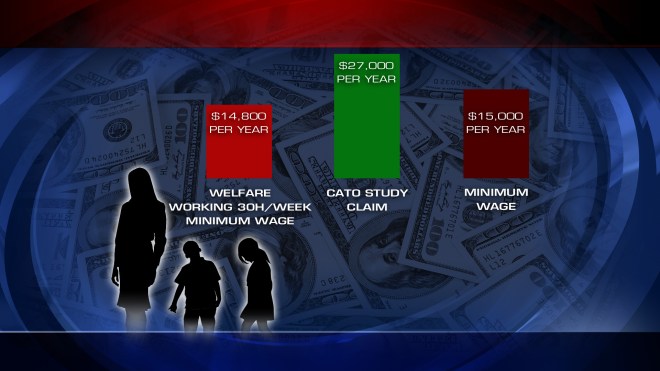 Like this viewer who wrote NewsChannel 4:
"I'm a single mom of 2 kids and I work...for minimum wage, and it is an everyday struggle to survive."
Also, this woman.
"I barely make my rent each month, and forget about having money to buy groceries!"
In one year, those mothers make $15,000 working full time at minimum wage, but according to the study by the CATO Institute, they would make $27,000 a year if they were not working and were living off the taxpayers.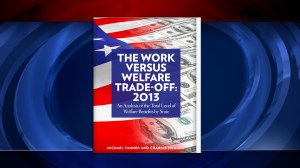 So the Cato Institute asks, where's the incentive for recipients to find work?
"The goal is to not have people sitting at home idly by," said Mark Beutler with Department of Human Services.
Beutler says our system isn't as general at CATO claims it is.
"It's not easy for a person in Oklahoma to receive TANF benefits. We have very strict guidelines," said Beutler.
TANF is what Oklahoma calls its welfare system.
The guidelines are that a family of three that receives welfare gets $292 dollars a month.
DHS also requires them to work at least 30 hours a week.
When you add it up, a mother of two children receiving welfare and working the required 30 hours a week at minimum wage would make $14,800 dollars yearly.
That's significantly less than the $27,000 the CATO study claimed and less than the $15,000 a minimum wage job pays.
So we asked CATO Institute's Senior Fellow, Michael Tanner, why the numbers are so different from what our state is paying out.
"When an individual is on welfare, they're not just receiving the cash benefit," said Tanner. "They're receiving benefits from multiple number of programs. We're suggesting those thing add up in total."
However, DHS says most Oklahomans don't get all those benefits like food stamps and pregnant women nutrition services, WIC.
Plus, in our state, receivers are working.
"It's meant to supplement, not to take place of their income to keep them from working," said Beutler.
Minimum wage or welfare, Wilson says either way would be a struggle.
"It's hard now when you make $10, $12 an hour," said Wilson.
The calculations are pre tax numbers. The CATO Institute says in the conclusion of the study, "It is of course, possible to over-generalize from the above statistics. Not every welfare recipient fits the profile used in this study, and many who do fit it do not receive every benefit listed."