This is an archived article and the information in the article may be outdated. Please look at the time stamp on the story to see when it was last updated.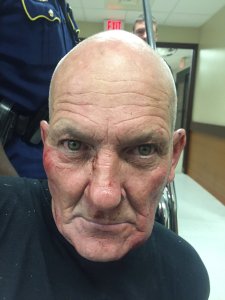 LOUISIANA — The man suspected of killing a Louisiana trooper in Lake Charles is believed to have killed his own roommate after an altercation that preceded the policeman's slaying, Calcasieu Parish Sheriff Tony Mancuso said Tuesday.
The roommate has been identified as Blake Brewer, and the suspected shooter, Kevin Daigle, was driving Brewer's truck when Trooper Steven Vincent was shot, a statement from the sheriff's office said.
"While being interviewed by state police, Daigle led investigators to believe an altercation occurred between him and Brewer which led to Brewer's death," the statement said.
Louisiana State Police Superintendent Col. Michael Edmonson stopped short of calling Daigle's remarks a confession, explaining that investigators need to be careful what information they release so as not to jeopardize the prosecution.
Investigators had been looking for Brewer on Monday morning after the Moss Bluff man's employer called police to say that he had not arrived at work or called in sick, which was not customary for Brewer, the sheriff's office said. They were en route to his home when the state police contacted them to relay what Daigle had told them, authorities said.
Deputies responded to his home in Moss Bluff to check his welfare," another statement said. "Once deputies arrived on the scene, they forced entry into the house and found the victim deceased."
It's not clear if Daigle was staying with Brewer on a permanent or temporary basis, Mancuso told reporters Monday.
Detectives with the sheriff's office were back at the crime scene Tuesday morning, gathering evidence. Daigle is already charged with first-degree murder in Vincent's slaying, and Mancuso told CNN that the investigation is likely to yield more charges against the 54-year-old.
Tragic traffic stop
Vincent, a 44-year-old father and veteran trooper, was shot Sunday during a traffic encounter with Daigle, whose pickup was stuck in a ditch when Vincent arrived, Edmonson said. Vincent died of his injuries the next day.
"As an organization, we are heartbroken over this senseless and tragic death," Edmonson said. "Our thoughts and prayers are with his surviving wife, Katherine, and his son (9-year-old) Ethan as well as his entire extended family," including two brothers who are also in law enforcement: Terrell Vincent, who's also a trooper, and Keith Vincent, who's chief of police in Iowa, Louisiana.
Several people had called to report a pickup had been swerving all over the road. Vincent realized the suspect's vehicle matched the description of the truck whose driver had reportedly been driving recklessly. He spoke to Daigle, who appeared to be impaired and was alone in the truck, Edmonson said.
Daigle then opened the truck's door and came out with a sawed-off shotgun that had been painted green, making it difficult to see, police said. Daigle allegedly shot Vincent before speaking to him, according to police.
"You could hear him breathing, telling him, 'You're lucky. You're going to die soon,'" according to Edmonson, who said he listened to a recording of the interaction.
The incident was caught on a dashboard camera video, which isn't being released at this time, police said.
Daigle tried to flee, Edmonson said, but motorists wrested the shotgun from him and detained him with the trooper's handcuffs.
"Thank God for those good Samaritans," the superintendent said. "They are heroes."
Daigle is now being held at the Calcasieu Parish jail. He appeared in a right-to-counsel hearing Tuesday at the Calcasieu Correctional Center and acknowledged to 14th Judicial District Judge Ron Ware that he will likely face the death penalty if convicted in Vincent's death, according to CNN affiliate KPLC.
The Louisiana Public Defender Board was assigned to his case, the station reported. Harry Fontenot, the office's supervisor, told CNN via a receptionist that he was not issuing any statements at this time.
Always smiling
Police describe Vincent as a highly decorated trooper who was surrounded by family and friends when he passed away Monday.
A friend and colleague of Vincent's, state police Sgt. James Anderson, said Vincent was approachable, friendly and always smiling.
Vincent's family is "hanging in there as well as can be expected," though the trooper's 9-year-old boy "still hasn't come to grips with the fact that his dad won't be around," Anderson said.
Vincent — the first Louisiana trooper to be killed in a hostile encounter since Trooper Donald Cleveland was murdered near Lafayette in 1977 — had a lifelong dream of becoming a trooper and joined the Louisiana State Police in 2003. Previously, he was with the Lake Charles Police Department for a decade.
"During his 12 years of service, he received 13 awards and commendations, including the department's Professional Excellence and Meritorious Service Awards as well as numerous Unit Citations for his dedicated and selfless duty throughout the state. He had also served in the United States Army during Operation Desert Shield and Operation Desert Storm," a state police statement from Sgt. Nick Manale said.
Vincent will receive the full honors associated with a death in the line of duty, Manale said.
There has been an outpouring of goodwill for Vincent's colleagues on the state police force since the trooper's death, police said. Along with words of condolence and encouragement, troopers have received artwork honoring Vincent and notes of gratitude left on their cars.
Gov. Bobby Jindal called Vincent "an honorable husband, father and state trooper" as he ordered flags at state buildings to be flown at half-staff until Friday.
"All of the support, posts and comments have continued to lift us up as an organization so that we may face these daunting days ahead," said a post on the state police Facebook page.
Vincent's current and former colleagues joined his family members at Lake Charles Memorial Health System on Monday afternoon for a flag-raising ceremony, at which the Louisiana Organ Procurement Agency recognized his family's decision to donate the slain trooper's organs.
"So far, seven organ transplant matches have been identified. Trooper Vincent will live on through others and continue to serve his fellow man for many years to come," state police said in another Facebook post.
Louisiana State Troopers Charities has set up an account to accept donations on behalf of Vincent's family. It is the only fund-raising effort endorsed by state police and Vincent's family.