This is an archived article and the information in the article may be outdated. Please look at the time stamp on the story to see when it was last updated.
CHANDLER, Okla. – Authorities say a man accused of stealing Purple Heart medals and other items worth $250,000 has been taken into custody in Virginia.
Officials are saying that 49-year-old Jonathan Bartlett Robertson was apprehended Saturday in Richmond, Virginia.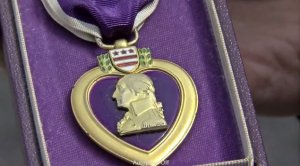 Robertson was driving a vehicle that had been reported stolen in Shawnee, Oklahoma.
Officials say Robertson is accused of stealing valuable property, including collector's items and Purple Heart medals.