This is an archived article and the information in the article may be outdated. Please look at the time stamp on the story to see when it was last updated.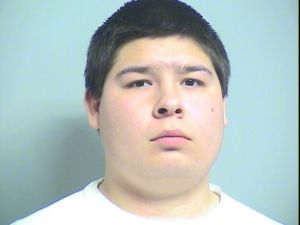 TULSA, Okla. (KJRH)– Police have taken two suspects into custody after the shooting in east Tulsa Friday.
18-year-old Kevin Rudolph and an unnamed 14-year-old boy are accused of shooting a 15-year-old boy. Officers recovered a shotgun and several knives believed to be used in the attack.
Police say it all started when the victim and another teen tried to buy marijuana from Rudolph.
Investigators say Rudolph and two others attacked the victim and his friend, firing shots. Police say the two suspects conspired to rob the victims, but the plan took a left turn, causing them to shoot instead.
The 15-year-old boy was hit in the leg and is in critical condition.
Police are still searching for the third suspect. They would also like to talk to Thomas Arellano; he also goes by the last name Arellano-McNair.
If you know Arellano or have any information, please call 911 or CrimeStoppers at 405-596-2677.