This is an archived article and the information in the article may be outdated. Please look at the time stamp on the story to see when it was last updated.
CHOCTAW, Okla. - When Johnny Schofield noticed his surveillance cameras pointing down and dangling outside his home, he thought there had been an earthquake.
What really happened may have shaken him longer than any tectonic shift.
"Nothing like this has ever happened before," said Schofield, a former Oklahoma City firefighter. "When they put me in danger and my family, it's very concerning."
As soon as Schofield noticed the cameras out of place, he went inside to check the footage and couldn't believe what he had found.
A man pulls up in a dark-colored pick up truck and walks toward the porch.
"You can see how he covers his face with his hat and, then, he starts disabling the cameras," Schofield said. "It's scary. Glad I've got dogs."
Once the cameras are all tilted down or knocked over, the man leaves.
Schofield can't see any signs of a break-in, and all his items are accounted for, but he immediately called the Oklahoma County Sheriff's Office.
"It's very suspicious," said sheriff's spokesman Mark Opgrande. "There's really no reason to go up to somebody's house and try to conceal their video cameras."
While Opgrande said it doesn't appear the man committed any crimes, the sheriff's office is still looking to speak with the man caught on camera.
It's possible the man wanted to come back later to break in and steal something.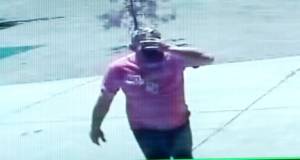 Schofield can't think of a reason would tamper with his cameras, other than his outspoken disapproval for a new loop of a turnpike, which will likely force him from his home.
But, he's not taking any chances, installing new, HD security cameras to catch a clearer image of the next person who comes onto his property unannounced and uninvited.
The sheriff's office said Schofield's experience is a good reminder to others who use video surveillance at home.
"If you do have cameras on your property, it's a good idea to take a look at them now and then," Opgrande said. "Don't just leave them up and let them sit there. You're going to want to take a look at them. Make sure no one's been messing with them, make sure no one's been cutting the feed."
If you recognize the man in the pictures in this story, contact the Oklahoma County Sheriff's Office at 405-869-2501.