This is an archived article and the information in the article may be outdated. Please look at the time stamp on the story to see when it was last updated.
PAYNE COUNTY, Okla. - Two small clues helped investigators identify the suspects and a murder victim, whose body was so badly burned OSBI agents had a difficult time figuring out who he was.
Michael Hamilton died Tuesday night, an OSBI spokeswoman said, but firefighters found his body the next morning in a field between Stillwater and Langston.
On Friday, the OSBI announced it had arrested Greg Guard, Gary Schaffner and Anthony Endrina in connection with the murder.
"Everything just came together very nicely," said spokeswoman Jessica Brown. "Really, because, we had so much help from Stillwater police and the [Payne County] Sheriff's Office."
Though the OSBI initially asked for help identifying Hamilton, investigators found distinctive tattoos on his back, which had not been as badly burned.
State agents showed pictures to the Stillwater Police Department, which was familiar with Hamilton, who has a lengthy criminal history.
"Had we not been able to see those tattoos, it could have taken months or more," Brown said. "And, once we got an identification on him, we were able to just run with the case. We tracked down his known associates, his friends and we were able to come to a point where we could arrest three people in this case."
Investigators knew where to look because of an object they found at the crime scene, nearly disintegrated.
It was a city of Stillwater trash bin.
"We could tell what it was because we worked a similar case involving one of the blue bins, so we knew what to look for," Brown said.
The bin and Hamilton's identity led police to a Stillwater home, where investigators interviewed friends and one of the suspects and began to piece together the story.
Anthony Endrina told officers a Tuesday-night argument escalated things at the house.
Endrina felt threatened, according to an affidavit, and told police he hit Hamilton with a stick.
Hamilton then ran upstairs and struggled with Guard, who stabbed him in the leg, according to the document.
"One of them actually got a baseball bat and struck Hamilton in the head at least one time," Brown said. "He died there at that home. They later that night took him to the location in rural Payne County, where they set him and that bin on fire."
The men used gasoline and diesel as an accelerant, Brown said.
State agents are still investigating if anyone else knew about the murder or the circumstances leading up to it.
Endrina and Schaffner both have criminal records.
None of the three men have been scheduled to appear in court.
Authorities were searching for Hamilton's service dog - which has now been found dead.
Officials with the OSBI said, after dumping Hamilton's body, the suspects drove to either Kay County or rural Noble County and dumped his service dog.
The dog was described as a pit bull mix that answered to 'Lil Mutt.'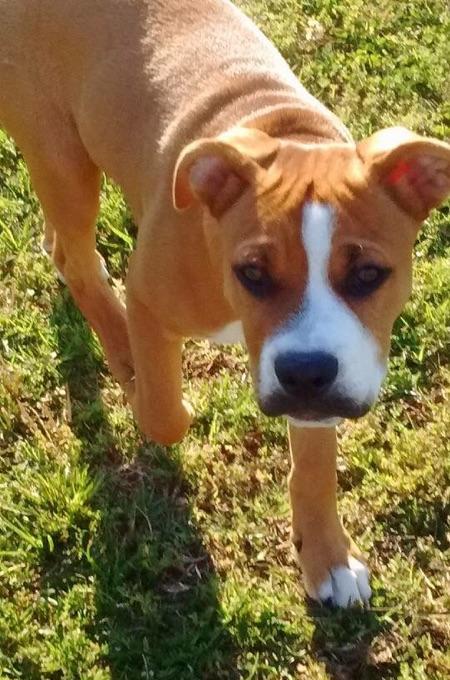 Hamilton had the certified service dog to help him with health problems.
His family said they would've like 'Lil Mutt' back.