This is an archived article and the information in the article may be outdated. Please look at the time stamp on the story to see when it was last updated.
OKLAHOMA CITY – As teachers head to the Capitol for a fourth straight day, the leading teacher's union is encouraging lawmakers to pass several revenue raising measures.
Last month, the Oklahoma Education Association announced that it was seeking a $10,000 pay raise for Oklahoma teachers over three years, a $5,000 pay raise for support professionals over three years, a cost-of-living adjustment for retirees, and the restoration of funding for education and core government services.
Last week, Gov. Mary Fallin signed a bill that raises teachers' salaries by an average of $6,100. It also gives $1,250 raises for support staff and adds $50 million in education funding.
However, many teachers said education funding was severely lacking in the measure.
After spending three days with lawmakers, some educators are sending a clear message that they are not leaving until something is done about education funding.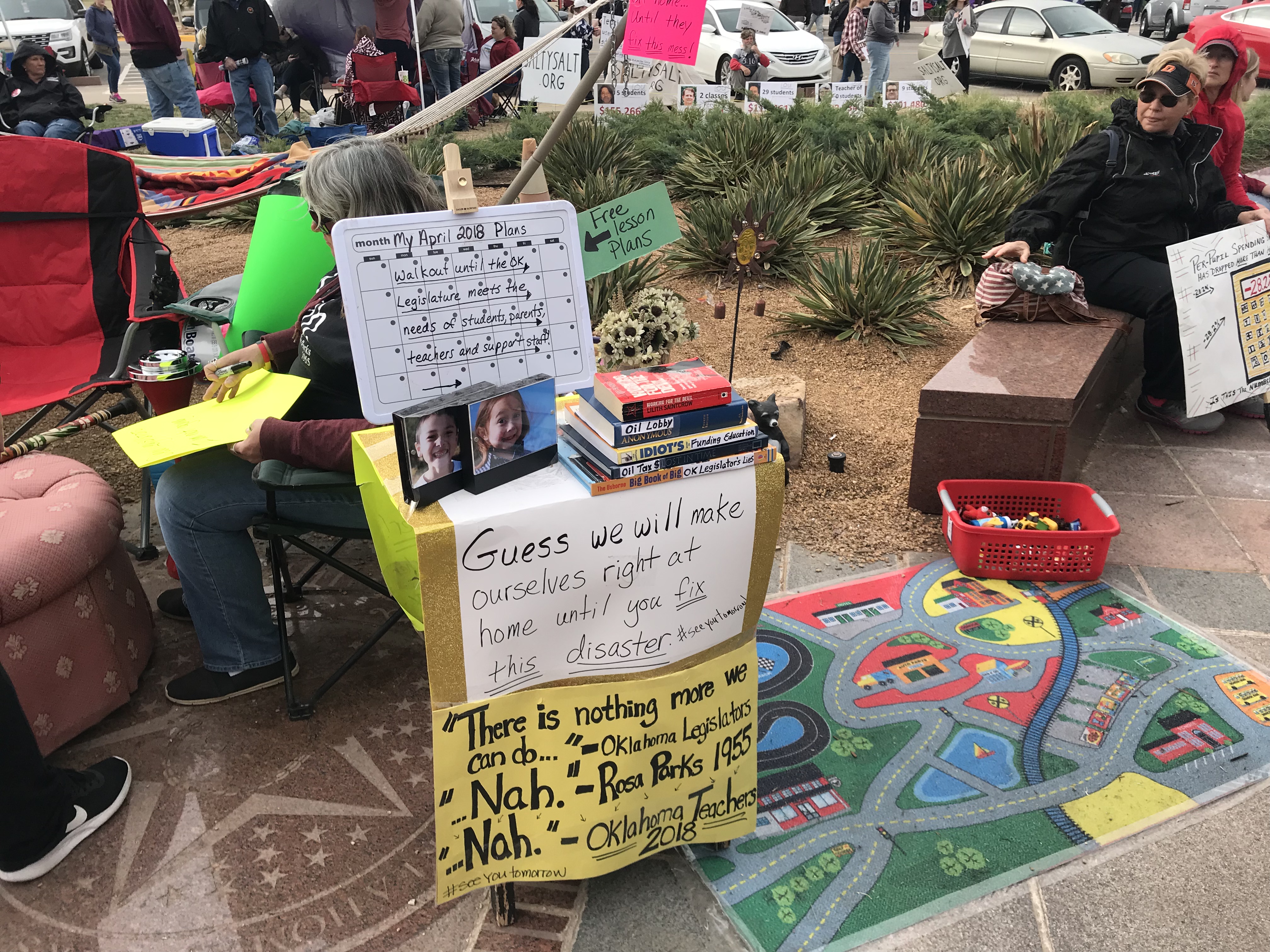 In fact, some even made themselves at home in front of the Capitol, bringing furniture, toys, pictures and a calendar.
The OEA says that even though shuttle service is limited on Thursday, thousands of Oklahomans are still expected to flood the Capitol.
Right now, the organization is encouraging members to ask their senators to vote in favor of House Bill 1013XX and House Bill 1019XX.
On Wednesday night, the House passed HB 1019XX with a 92-7 vote.
The legislation would call for the collection of online sales taxes from third-party retailers, like Amazon. The bill now goes to the Senate, who will go into session around 1:30 p.m. on Thursday.
However, the earliest the Senate can hear the measure would be Friday.
"You need to know, there's fault on both sides. And you're hearing a lot of it thrown around here today. Both sides are equally at fault of how we got to this point," said Rep. Earl Sears, R-Bartlesville, a former teacher and school administrator.
HB 1013XX relates to 'ball and dice' games and is expected to bring in $22 million. However, there has been some opposition to the bill in the past.
OEA estimates that more than 30,000 people were at the Capitol on Wednesday.