This is an archived article and the information in the article may be outdated. Please look at the time stamp on the story to see when it was last updated.
TECUMSEH, Okla. – The Tecumseh Police Department unveiled a memorial for their fallen officers Tuesday night.
The memorial honors Police Officer Justin Terney, Constable John A. Armstrong and Chief of Police Grover C. Butler.
[protected-iframe id="08c85f3f9dd010746930e4d68c6f1539-29519643-98557584″ info="https://www.facebook.com/plugins/post.php?href=https%3A%2F%2Fwww.facebook.com%2Fsusan.waltersbrittingham%2Fposts%2F1636711629718098&width=500″ width="500″ height="585″ frameborder="0″ style="border: none; overflow: hidden;" scrolling="no"]
Police Officer Justin Terney; End of Watch: March 27, 2017
Around 11:30 p.m on March 26, 2017, Officer Justin Terney pulled over a vehicle near Benson Park and Gordon Cooper.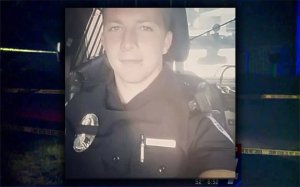 "You got your driver's license and registration ready?" dash cam video showed Officer Justin Terney asking Brooklyn Williams during the traffic stop.
Warning: This video contains graphic language and events that may be disturbing to some viewers.
Williams gave Officer Terney her real name, but 36-year-old Byron Shepard lied, and told Officer Terney his name was James Bishop. Shepard was wanted for stealing a pickup and equipment from an oil drilling company.

Dispatch couldn't find Shepard's false identity, and Shepard proceeded to make small talk with the 22-year-old officer.
Officer Terney told Shepard he needed to be honest and give him some identification, but Shepard ended up running into a wooded area.
You can hear Officer Terney screaming, "You're going to get tased! Stop!"
District Attorney Richard Smothermon said Officer Terney tased Shepard as they cleared a fence.
In the video, you can hear Officer Terney say "Central, I've been hit."
"We believe Officer Terney returned fire after he was hit," Smothermon said.
Smothermon said Terney was shot twice, and Shepard was shot at least three times.
They were both rushed to nearby hospitals, but Terney died from his injuries. Officer Terney had been with the Tecumseh Police Department for one year.
Shepard is facing charges of first-degree murder, knowingly concealing stolen property and possession of a controlled dangerous substance.  Prosecutors say they are seeking the death penalty in the case since Shepard met five of eight aggravating circumstances that warrant a death sentence. According to online records, the case is set to go to trial on June 18.
Constable John A. Armstrong; End of Watch: November 7, 1940
Constable Armstrong was shot and killed as he and another constable attempted to serve court papers to a man for unpaid debt. They were ordered to collect $7.10 or confiscate the man's car.
After confronting the man, the man then went into his house, got a shotgun and shot Constable Armstrong in the chest.
The man was convicted of manslaughter one month later and sentenced to 25 years in prison.
Constable Armstrong had been with the Tecumseh Police Department for 16 years.
Chief of Police Grover C. Butler; End of Watch: April 18, 1932
Chief Butler was shot and killed while on foot patrol around 1:30 a.m.
He was walking behind the Tecumseh Post Office when he was ambushed by a man underneath a porch.
Despite being shot twice, Chief Butler was able to return fire and empty his revolver, however, "none of the shots took effect," the memorial reads.
Chief Butler was taken to the doctor's office where he died approximately eight hours later.
Before he died, he was able to identify the suspect who was apprehended the next day, along with an accomplice, and both were sentenced to life in prison for Chief Butler's murder.