This is an archived article and the information in the article may be outdated. Please look at the time stamp on the story to see when it was last updated.
SHAWNEE, Okla. – A Tecumseh police sergeant has been arrested after allegedly choking his son following a heated argument at a Shawnee restaurant. It happened Friday night at the Buffalo Wild Wings.
"They were there eating dinner and having some alcohol," said Cpl. Vivian Lozano with the Shawnee Police Department.
Lozano said Sgt. Jesse McCord, of the Tecumseh Police Department, was at the restaurant with family and friends. They were enjoying dinner and drinks when things took an unpleasant turn.
"They were having a conversation, which ended up heated, and an argument started," Lozano said.
According to a police report, the "subject turned to marijuana" and that's when things got heated.
According to the report, McCord's son, Taylor, told him he should leave because there were children present.
McCord replied with: "I came with you, and you can't make me get up."
McCord later said to his son: "You're f*** dead to me, you worthless piece of s***."
"Jesse McCord ended up choking Taylor," Lozano said.
Taylor told police his dad leapt out of his chair and started choking him.
Witnesses told police they saw McCord put Taylor in a headlock.
"Strangulation is very serious. He was treated and released at the hospital. I'm not sure how injured he was or anything, but he was released," Lozano said.
McCord was booked into the Pottawatomie County jail on a charge of assault and battery strangulation. He has since bonded out of jail.
McCord is a veteran of the Tecumseh Police Department and was officer of the year in 2017.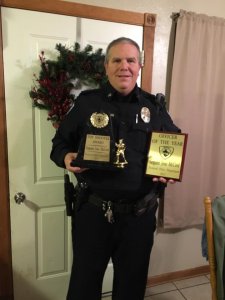 Officials with the Tecumseh Police Department said he has been put on administrative leave.