This is an archived article and the information in the article may be outdated. Please look at the time stamp on the story to see when it was last updated.
GEORGIA – Two teens have been arrested for allegedly raping a woman in front of her toddler son. A third teen was arrested in connection to the attack.
The victim told police she was coming home from work with her two young sons when she was assaulted back in May.
Once she sat both boys down and walked into the living room, she saw two men, Josue Ramirez-Aguilar, 19, and Francisco Palencia, 17, in dark clothes and ski masks standing in her kitchen.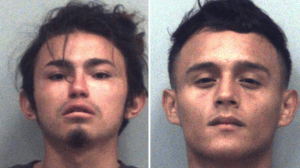 The men then shocked the woman with Tasers, and forced her toward the bedroom. The woman tried to resist so she could get back to her children but was unable to.
Inside Edition reports one of the men then poured two pots of boiling water on her, while the other man "dragged her into the bedroom and demanded she take her clothes off."
According to police, the woman followed their commands out of fear of what may happen to her children if she were to fight back.
One of the woman's sons followed them into the bedroom and witnessed the attack.
During the assault, one of the men ransacked the woman's home and took her belongings.
After the men left, the victim, who suffered burns to several parts of her body, immediately called police and was treated at the hospital.
Ramirez-Aguilar, Palencia, and an unnamed 15-year-old girl, who is accused of driving the men to the apartment, were arrested in connection to the home invasion and attack.
A German shepherd puppy, jewelry box, clothes, and other items were reported missing from the victim's home.
Ramirez-Aguilar and Palencia are charged with home invasion, kidnapping, aggravated sodomy, aggravated battery, rape and cruelty to children. Ramirez-Aguilar is also being held by the U.S. Immigration and Customs Enforcement for criminal trespass and criminal attempt to commit crime.
They are both being held without bond.