This is an archived article and the information in the article may be outdated. Please look at the time stamp on the story to see when it was last updated.
COLUMBIA, Tenn. – The Tennessee teacher suspected of kidnapping his 15-year-old student was spotted in Oklahoma City with the teen, authorities said.
#TNAMBERAlert SIGHTING CONFIRMED: Tad Cummins and Elizabeth Thomas were in Oklahoma City on March 15th. DETAILS: https://t.co/PtEHq8npp2 pic.twitter.com/cLhDJRBCd3

— Tennessee Bureau of Investigation (@TBInvestigation) March 31, 2017
The Tennessee Bureau of Investigation has confirmed a sighting of the 15-year-old victim in an ongoing AMBER Alert, along with the 50-year-old man believed to have kidnapped her earlier this month.
Late Thursday, after receiving information from a tip, investigators obtained surveillance images from a Walmart on East I-240 Service Road in Oklahoma City from the afternoon of March 15th, showing Tad Cummins and Elizabeth Thomas shopping at the store.
Officials said Cummins used cash to purchase various food items, but did not purchase anything else of significance.
The surveillance images of Cummins and Thomas – the first obtained by investigators since the alleged kidnapping on March 13th – clearly show Tad Cummins with an altered appearance to darken his hair.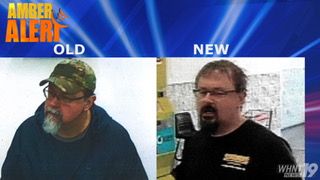 The same images show Elizabeth may currently have red hair.
Efforts to determine what vehicle they were traveling in Oklahoma remain ongoing.
This is the first confirmed sighting of the two since they disappeared earlier this month.
Early on, we issued the picture on the left, from several days before the #TNAMBERAlert, Note the apparent change in Tad's appearance. pic.twitter.com/ZaET35u0C7

— Tennessee Bureau of Investigation (@TBInvestigation) March 31, 2017
The teacher was being investigated after he was reportedly spotted kissing the student in his classroom.
Cummins, who had taught Elizabeth in a forensics class at a high school in Culleoka, some 50 miles southwest of Nashville, is charged with kidnapping her.
An Amber Alert was issued for Elizabeth on March 14, the day after a sheriff's department had declared her missing.
He is believed to be armed with two handguns and driving a silver Nissan Rogue with Tennessee tag 976-ZPT.
A warrant has been issued for Cummins for Sexual Contact with a Minor and Aggravated Kidnapping.
On Friday, the TBI added him to the state's 'Top 10 Most Wanted' list. There is a $1,000 reward for information leading to his capture.
As of this morning, the TBI received more than 1,200 tips from across the country.
The TBI would urge the public to remain vigilant and report any information that may prove beneficial in the ongoing search to 1-800-TBI-FIND.
If you spot the vehicle and can verify the license plate to be TN 976-ZPT, call 911 immediately.
This is a developing story. Check back for updates.