This is an archived article and the information in the article may be outdated. Please look at the time stamp on the story to see when it was last updated.
TULSA, Okla. – Terence Crutcher, whose shooting by a police officer in Tulsa, Oklahoma, was captured on camera, had the drug known as PCP in his system during the incident, according to a toxicology report released Tuesday.
The case drew national attention after police released videos showing Crutcher walking on the road with his arms in the air before the shooting.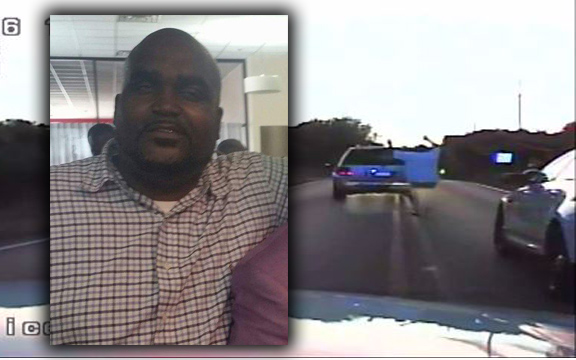 Tulsa police Officer Betty Shelby has pleaded not guilty to felony manslaughter in connection with the shooting.
Through her lawyer, Scott Wood, Shelby has said she thought Crutcher was retrieving a weapon from his car when she opened fire. She yelled repeatedly for him to stop walking and get down, Wood said.
But Crutcher kept going, placing his hands in his pockets, where she also feared there could be a weapon, Wood said.
He returned to his SUV and was next to the driver's door when he was shot. No weapon was found.
An autopsy found phencyclidine, PCP, was in Crutcher's system at the time of his fatal shooting, according to the toxicology report released with his autopsy by the Oklahoma Chief Medical Examiner's Office. The report did not indicate when it entered his system.
"Much will be made — by some — of the toxicology report," Daniel Smolen, the attorney for Crutcher's widow said in a statement. "This presence of PCP is a distraction and utterly immaterial to the crucial issue."
Smolen said that the central question was whether Shelby was justified in using deadly force on an unarmed man.
"Unfortunately, the use of illicit drugs is common in this country," Smolen stated. "Those, like Mr. Crutcher, who struggle with addiction should receive treatment, not a bullet in the chest."
The cause of death was gunshot wound to the chest, according to the medical examiner's report.
One of Shelby's attorneys addressed the media following the autopsy results saying that the results support Officer Shelby's actions.
"I felt confident then, and I feel confident now, as the investigation unfolds and evidence continues to be released, it will reveal and support that Officer Shelby was justified in her use of force on September 16," attorney Shannon McMurray said.
Crutcher family attorneys released a statement saying that while the medical examiner's report is unfortunate, it doesn't change anything.
"The medical examiner's report of PCP in Terence Crutcher's system is unfortunate. However, today's toxicology report does not change the most pertinent facts of this tragedy: Officer Betty Shelby shot and killed Terence Crutcher who was, unarmed and had his hands up, without provocation or justification and she should be held accountable for her unlawful actions.

Furthermore, Terence was so much more than this issue, including being a devoted father, a college student, and a great gospel singer, and was working hard to better his life and the life of his beloved children when he was gunned down on his way home from class.

Lastly, please continue to pray for the Crutcher family as they seek peace, understanding, and justice in the wake of Terence's untimely death."
The ACLU also released a statement, agreeing with Crutcher's family attorneys.
"Initial reports that Terence Crutcher had PCP in his system are completely irrelevant to the question "should Terence Crutcher be alive today?" These findings are the product of weeks long testing and examination by medical professionals. To say that anyone on that scene could have drawn this conclusion or that such a conclusion would justify lethal force is utterly ridiculous and disingenuous. Drug possession and drug use do not now, nor should they ever, justify summary execution.

No doubt there will be those who will seize upon this news to justify the killing of Terence Crutcher. Make no mistake about it–those who would attempt to justify his killing on the basis of this finding are engaging in the sort of behavior that dehumanized Terence Crutcher; behavior that ultimately led to his death on the streets of Tulsa and instills genuine fear in the hearts of people of color across our nation.

Even though it is irrelevant to the use of lethal force, it is worth noting that these findings do not tell us whether or not Terence Crutcher was under the influence of PCP at the time of this encounter. Testing positive to a substance in your system is very different than being under the influence of a substance, though again neither justify the government gunning someone down in the street.

We encourage the public, the media, and law enforcement to resist the temptation to seize upon this all too convenient practice of character assassination in an attempt to divert attention away from meaningful responses to the systematic violence and dehumanization that is far too common in interactions between law enforcement and communities of color.

These findings in no way change the tragic fact that Terence Crutcher should be alive and with his family today." – Ryan Kiesel, Executive Director