This is an archived article and the information in the article may be outdated. Please look at the time stamp on the story to see when it was last updated.
HOUSTON – A 15-year-old Texas boy was arrested Thursday and accused of tweeting threats to shoot up his school because he had been bullied, authorities said.
The boy, who lives in Deer Park, a suburb of Houston, was arrested about 4 a.m. (5 a.m. ET) and charged with exhibition of firearms, Deer Park police said in a statement.
The boy posed as a girl in the Twitter account, Deer Park police Lt. Earl Morrison said. Beginning at about 9:15 Wednesday night, "she" began complaining of having been bullied for five years and writing that "she" was going to shoot the bullies and kill "herself."
The tweets didn't mention a specific school, but the Deer Park Independent School District, which alerted police to the threats Wednesday night, said the suspect was a ninth-grade student at Deer Park High School's North Campus.
One of the threatening tweets included a picture of a girl whom police identified as a student at that school. Morrison said the girl wasn't involved.
Morrison said investigators traced the suspect through the account's IP address to his wireless carrier, which turned over his address under a subpoena.
He and his parents were cooperating with investigators, and the boy appeared to have no actual weapons, police said. But students in the district had no way to know that, and the threats — profane, ugly and violent — were more than enough to terrify district students: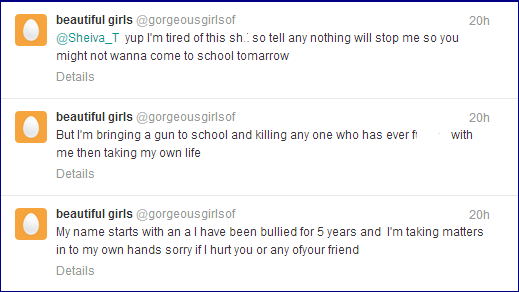 Other students weighed in, posting replies that urged the poster not to go with "her" plans.
Although police and school officials said they were confident the boy was bluffing, bullying and weapons in school have been major topics of discussion after high-profile incidents in recent weeks, and the school district had beefed up security at Deer Park North.
According to NBC News