This is an archived article and the information in the article may be outdated. Please look at the time stamp on the story to see when it was last updated.
[protected-iframe id="3d0da0bf3dcbff4c00344402bc4d5219-29519643-62065474″ info="http://cdnapi.kaltura.com/p/1636891/sp/163689100/embedIframeJs/uiconf_id/36216731/partner_id/1636891?iframeembed=true&playerId=media-preview_0_1_ic1xmtc3&entry_id=1_ic1xmtc3&flashvars =auto" width="640″ height="395″ frameborder="0″ webkitallowfullscreen="" mozallowfullscreen="" allowfullscreen=""]
BEXAR COUNTY, Texas – A Texas couple has been arrested in an "egregious" child abuse case involving a 1-year-old girl who suffered life-threatening injuries during a brutal sexual assault, authorities said Tuesday.
Around 9 a.m. on New Year's Eve, deputies and emergency crews were called to a home in Bexar County on reports of a child who had been attacked by dogs.
A man at the scene, identified as 23-year-old Issac Cardenas, told authorities that the toddler, who is under the age of 2, was attacked by dogs at the residence after wandering out of the home in the middle of the night, the Bexar County Sheriff's Office wrote on Facebook.
However, after questioning Cardenas and a female relative of the child at the scene, identified as 22-year-old Krystal Herrera, investigators discovered the couple's story was not consistent with the crime scene and the evidence.
Authorities said the child had extremely serious and life-threatening wounds consistent with a brutal sexual assault and multiple stab wounds to the "intimate areas of her body."
When animal control picked up the dogs at the home, the dogs showed no aggressive behavior, officials said.
The little girl was transported to a local hospital to be treated for her injuries.
"Without being too graphic about it, (for) a child this small to suffer those types of injuries to the body parts that were injured. She's going to carry this for the rest of her life," Bexar County Sheriff Javier Salazar said. "Physically, emotionally and all that details and it's a heartbreaking case"
Cardenas and Herrera were both arrested.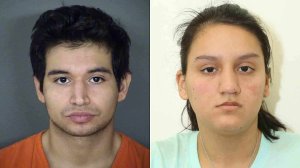 Cardenas is facing charges of super aggravated sexual assault to a child.
Herrera is facing charges for serious bodily injury by omission.
"The child's injuries are quite severe," Salazar said. "There's just no other way. I can't even begin to describe to you the level of depravity that went into this crime."