This is an archived article and the information in the article may be outdated. Please look at the time stamp on the story to see when it was last updated.
NBC'S HIT WEIGHT-LOSS SERIES "THE BIGGEST LOSER" LAUNCHING NATIONWIDE, 11-CITY SEARCH FOR NEW CONTESTANTS – Season 15 Auditions to be Held May 4 in Charleston, Chicago, Los Angeles, Oklahoma City and Salt Lake City, and May 11 in Atlanta, Boston, Cincinnati, Dallas, Philadelphia and Phoenix.
UNIVERSAL CITY, Calif. – April 18, 2013 – NBC's popular reality series "The Biggest Loser" is launching an 11-city, cross-country search to find new contestants for the next edition of the hit show.  Individuals who have at least 80 lbs. to lose are encouraged to apply for the new season.
Casting producers are looking for charismatic individuals who have the desire to change their lives forever and vie for this once-in-a-lifetime opportunity to lose weight and compete for a grand prize of $250,000. Candidates must be at least 18 years of age and legal residents of the United States. For information on how to apply, please visit www.nbc.com/casting and www.thebiggestlosercasting.com.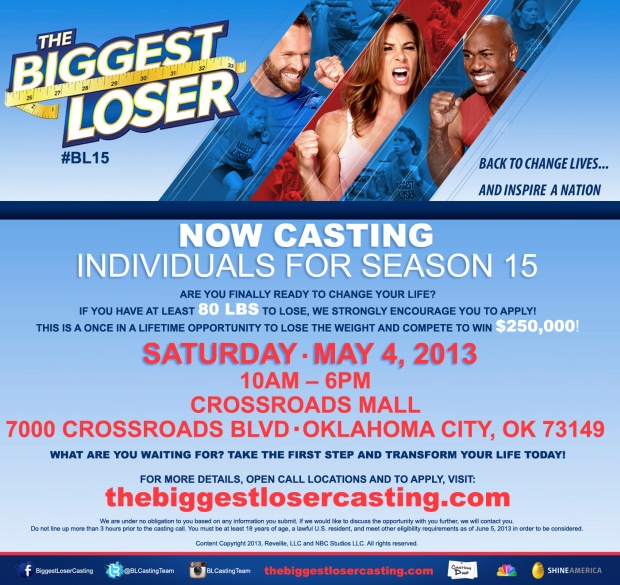 People will not be allowed to line up prior to three hours before the start of the open call. Candidates should bring a non-returnable photo of themselves.
SATURDAY, MAY 4
OKLAHOMA CITY
10 a.m. – 6 p.m.
Crossroads Mall
7000 Crossroads Blvd
Oklahoma City, OK 73149
The Biggest Loser" challenges and encourages overweight contestants to shed pounds in a safe and recommended manner through comprehensive diet and exercise as they compete for a grand prize of $250,000. The series provides the contestants with challenges, temptations, weigh-ins and eliminations until the final contestant remains to claim the title of "the biggest loser." Contestants work out under the supervision of professional trainers.
"The Biggest Loser" is a production of Shine America and 25/7 Productions. Ben Silverman, Dave Broome, Lisa Hennessy, Eden Gaha, JD Roth and Todd A. Nelson are the executive producers.
For embeddable clips and full episodes from "The Biggest Loser," please visit NBC.com's official show site:  http://www.nbc.com/the-biggest-loser/