This is an archived article and the information in the article may be outdated. Please look at the time stamp on the story to see when it was last updated.
Craig Troxell steps precariously across a customer's roof, marking hail damage from yet another Oklahoma storm. He still smells of the freshly cut grass from the swanky side of town, where he had just mowed lawns to make a few extra dollars.
But, Troxell, 50, isn't a landscaper nor roof salesman by trade. He's a full-time high school science teacher who works four jobs to make ends meet.
"Teacher morale gets worse every year," said Troxell, who also drives a school bus before and after school. "I've heard a lot of my (teacher) acquaintances walk away and get a different job. They don't want to do it anymore."
Oklahoma is among the bottom three states for teacher salaries, where educators often work about 10 years before reaching the $40,000 salary mark. And, they haven't gotten a raise from the state in 10 years.
While educators nationwide have seen slight paycheck bumps over the past decade, when adjusted for inflation, teachers have actually lost 3 percent of their income from 2006 to 2016, according to the National Education Association.
Recently, the Oklahoma teachers' union called for $10,000 teacher raises, $5,000 raises for support staff and more than $200 million for education funding.
Lawmakers agreed on an average teacher raise of $6,100, $1,250 for support staff and a $50 million increase in education funding – a measure Gov. Mary Fallin signed into law Thursday.
But, many teachers said it's not enough. So, on Monday, Troxell and thousands of other teachers will walk out – prompting some schools to shut down indefinitely.
"We're at the end of the rope," Troxell said.
He's far from alone. Several teachers told CNN they're working multiple jobs in food delivery, retail, rideshare driving, restaurants and even surrogate pregnancy to pay the bills. Some now rely on a food bank to feed their own children.
The teacher with six jobs
Almost every morning, Jonathan Moy's two daughters ask him the same heartbreaking question: "Are we going to see you today?"
He gets visibly emotional thinking about how many days he tells them no.
"It's really tough when your daughters get sad because you tell them you're not going to see them," said Jonathan, 40. "And, it almost breaks your heart, because it's not their fault. It's not my fault. It's the situation that we're in."
Jonathan teaches high school algebra, drives a school bus in the afternoon, coaches football and wrestling, umpires Little League baseball and drives for rideshare services.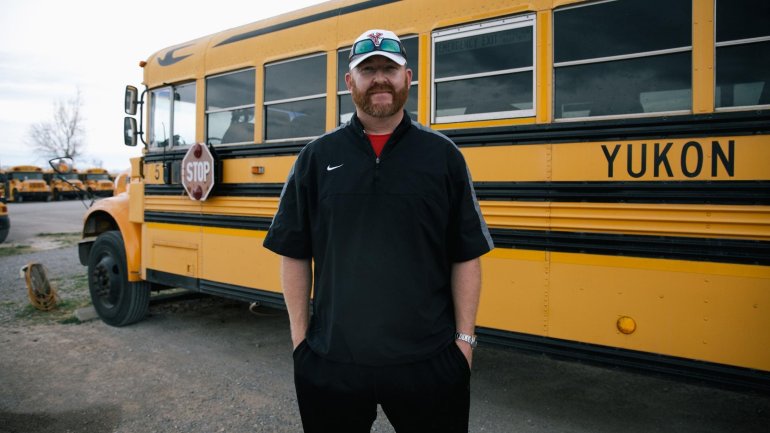 All of that combined, Jonathan said, brings home about $36,000 a year after taxes.
"Last night, I drove Lyft and Uber for six, seven hours," Jonathan said. "When you have to do that to help supplement your income, it's tough when you don't get home when your kids go to bed."
But, he fights off the exhaustion by the time the bell rings at Yukon High School, just west of Oklahoma City. As 32 teenagers fill his classroom, Jonathan's demeanor is as cheerful as the yellow and blue lights strung all across his ceiling.
"Half of teaching is having them just enjoy coming into school," Jonathan said. "If you can actually get them to enjoy coming into your classroom with your atmosphere, your jokes or just having a good time, that's half the battle."
When explaining a new algebra concept, Jonathan draws analogies to jelly beans and tacos. He plays 'Hotel California' and 'Roll With It' as students practice factoring polynomials.
Jonathan's unorthodox style has paid off.
"I was looking at your STAR (standardized) test we took," he told his class of mostly freshmen. "You started the year at a 7th grade level. Now, you're above a 12th."
Freshman Zach Ennis said Jonathan has made algebra easier to learn.
"I really like him. He's a really good teacher. He explains stuff really good," Ennis said.
Ennis said he supports his teacher walking out next week, even though he might have to make up school days in the summer.
"It's kind of sad that he has to do that many jobs," Ennis said. "He should be able to concentrate just on teaching."
Jonathan said he wants to keep teaching in Oklahoma, where he was born and raised. But, he and his wife, Kendra Moy, who's an elementary school teacher, can't understand why educators in their state are paid so little compared to neighboring Texas and Arkansas.
"The salary in Fort Worth (Texas) is starting at $51,000 to work at Fort Worth public schools," Jonathan said. "In Oklahoma, the starting pay is $31,000. And, even if you've been teaching 25, 30 years, it's really tough to get to that level of income as a teacher."
Despite their meager incomes, the Moys said they spend a combined $2,000 on their classrooms each year – including crayons and glue sticks for Kendra's 3rd grade students. At her school, the entire student body qualifies for free or reduced lunch.
Their 10-year-old daughter, Karlie, said she wishes her dad could go to more of her basketball and softball games. But, she understands why he keeps teaching and working so many jobs.
"I just want him to do what he likes," she said. "He's just trying to help our family out."
The teacher who's also a surrogate mother
When Allyson Kubat started teaching at Mustang High School, the school had no debate program.
Just three years after launching one, Kubat's getting ready to take her undefeated debate team to the most elite tournament this June.
"We're going to nationals this year, which is kind of crazy," said Kubat, 29.
It will be her final act as a teacher.
"I decided, as hard as it is, that next year I'm not going to be teaching anymore," Kubat said.
She realized the 60 to 90 hours a week she works to support her kids meant she rarely got to see her kids. The epiphany came when her 9-year-old daughter called her after school one day.
"She said, 'Mom, are you coming home today or are you going back to work?' Because I leave work (at the school) and I go to my second job, or my third job and I don't get home until she's in bed or almost in bed," Kubat said.
Kubat's other jobs include event coordinating, food delivery and surrogate motherhood – a venture that puts a significant strain on her body but pays more than her teaching salary of about $33,000.
"One of my students asked, 'So, what's your other job?' Because the kids in this state know that their teachers are not just teachers," she said. "They know that we have to do something else to survive."
Her husband, Clint, is an office manager who doesn't make much more than his wife's teaching salary. Before she started her second surrogate pregnancy this week, he said, the couple had already budgeted for that income.
After this school year, Kubat will become a full-time event planner – a bittersweet move, given how passionately she loves teaching.
"It is hard to give up what I've worked so hard to become," Kubat said.
But, she's tired of sacrificing crucial family time for teaching.
"It's time to stop being a martyr," she said.
The teacher with 2 degrees and 2 mall jobs
Shontée Branton has bachelor's and master's degrees in early childhood education. But, when she gets to the checkout lane at the grocery store, she has to turn around.
"In my mind, I'm like 'What do I need to put back?' Because I know I can't afford all of this," said the 1st-grade teacher at Epperly Heights Elementary. "Maybe I want the strawberries, but I can make it without."
Branton, who's been teaching for nine years, said she makes about $36,000 a year.
She supplements that by tutoring, teaching summer school and working at Macy's – both on the retail floor and in the human resources office.
"Normally, I leave from the school and go straight to Macy's and clock in," she said. '"There's times I leave my house at 7 in the morning, and I don't come home until 10 o'clock at night."
That's when her 3rd-floor apartment looks more like a mountain summit.
"I literally come home and sit in my car for 30 minutes because I can't muster the strength to go up the stairs," she said.
Branton said she's thinking about moving to Texas, where a teacher with her experience and education can earn about $20,000 more a year. But, she feels a calling to teach in Del City, where she grew up and where all the students at her school qualify for free or reduced lunch.
"I grew up with a single-parent home; both parents struggled with drug abuse," she said. "When I see those kids, I see myself. And, I had a teacher or two who believed in me."
Branton said she's walking out Monday not just for teachers' raises, but for another key demand: more funding for education in the state. She said she never wants to teach an overstuffed class of 34 students with only 25 textbooks again.
"A lot of people are saying we're walking out on our kids. And, that's been one of the most hurtful things because we feel like we're walking for our children," Branton said. "People are expecting us to do a job without the proper resources. And, not only is it not fair to educators, it's not fair to the kids."
So, what if she had to choose one or the other – increasing teachers' salaries by $10,000 or adding $200 million in funds for statewide education?
"It would have to be the kids. I mean, that's non-negotiable," Branton said. "Yes, I need more money. I'm tired of working multiple jobs. But, in the grand scheme of things, if we educate these kids, then that's better for society."
If neither of those demands are fully met, Branton said, Oklahoma could lose yet another teacher.
"If it's not passed, I probably will leave," she said. "It would be the hardest choice."
The rookie teacher and waitress
By 8 a.m., Jennifer Winchester is teaching language arts to 5th graders. By 8 p.m., she's hoisting trays of enchiladas at a Mexican restaurant.
As a first-year teacher, Winchester "always understood" she would struggle financially.
"In college, they would show us the pay increments… from zero to 25 years," Winchester said.
She said a guest speaker came into her college class and "literally begged us to stay in Oklahoma," telling prospective teachers to think of the kids and realize "it's not their fault."
So, Winchester pursued her passion, even if it meant moonlighting as a server to help pay the bills.
"I can remember, back in the 4th grade, my teacher told my mom at a parent-teacher conference, 'If she doesn't become a teacher, I'll be very disappointed.' Even in the classroom, I'd help other students," Winchester said.
Now, as a professional teacher, she again finds herself going the extra mile for students. Despite her $31,000 teaching salary, she spent about $1,200 getting her classroom in shape for this school year, buying new shelves and books and replacing worn-out desks.
"I tried to stop tracking those receipts, because it depresses me," she said.
Winchester's long-term goal is to be a high school counselor. But, she doesn't want to take on a master's degree in counseling until she's paid off her $23,000 in student loans.
For now, she's hoping her nearly 10-year-old car "with as many dents as you can find in it" doesn't break down, since that could spell financial disaster.
She fantasizes about owning a slightly nicer car one day.
"My goal is to have automatic windows and locks," she said.
The state superintendent's response
Joy Hofmeister said the teachers' frustration is justified.
"Our teachers are right – they have been underpaid," the state superintendent said. "We know that the frustration is high, that it's something that comes after a decade-long reduction to public education funding."
But, "the legislature can't reverse in one bill the cuts that have come over a decade."
She said the main reason why it's been so difficult to increase spending for teachers and education is because, in 1992, the state constitution was changed to require a supermajority approval – 75 percent of the legislature – before taxes could be raised.
"It's been 28 years since Oklahoma has raised taxes," Hofmeister said. "We've been operating with the same dollars as 2008 but with more than 50,000 more students."
She said it's "unconscionable" some teachers work three to six jobs to make ends meet.
He's an algebra teacher in Oklahoma. And a bus driver. And a Little League umpire. And he drives for Uber and Lyft. All because he says his teaching salary isn't enough to support his family https://t.co/6MunSrq8BA pic.twitter.com/eu1ajmE3Su

— CNN (@CNN) April 1, 2018
"Our teachers deserve better," she said. "And, that was answered with this historic teacher pay raise. This is an important step forward. But, it's not the only thing that is needed."
The food bank that serves teachers
Lori Decter Wright admits there's a stereotype about those who rely on food banks. Maybe they work at fast-food restaurants. Maybe they got hit with an unexpected medical bill.
Then, starting around 2015, she noticed a shocking trend: teachers, including some with master's degrees, also needed supplies of cereal, canned vegetables and beans.
"We have teachers near the poverty level," said Decter Wright, executive director of Kendall Whittier, Inc. – a ministry that runs an emergency food pantry in Tulsa. "I really had to start asking the question 'What is going on in Oklahoma that full-time, working professional teachers have to rely on services like ours to make ends meet?"
Michael Turner is one of the teachers who went to the food pantry, embarrassed that he needed assistance.
"You're used to taking care of yourself. No one likes to ask for help, and that's pretty tough," said Turner, a recently divorced father of a special needs daughter.
Turner said he "answered a call to action" when he became a special needs teacher.
"There was a big push in the state of Oklahoma to hire veterans to teach special ed at the middle school level," he said. "It's very, very difficult to be a teacher… I knew that it was hard, but teaching today is much more difficult."
And, when he comes home to his own child, he faces the guilt of seeing a kitchen pantry with empty shelves.
Turner said he's grateful for the food bank's assistance and regrets not reaching out for help months earlier.
"I always fought the notion that I would be the one asking for services, asking for help," he said. "I'd much rather be giving it."