This is an archived article and the information in the article may be outdated. Please look at the time stamp on the story to see when it was last updated.
ADA, Okla. –She say a cruise company may have put thousands in danger.
"They had no consideration for safety," she said. "I talked to a Royal Caribbean person on Friday night, and she said 'You do what you feel like you need to do, but our ship is sailing,'" said Cathy Brewer.
Brewer and her husband, along with other family members, were headed to Galveston to hop on Royal Caribbean's Liberty of the Seas ship.
But, she said, despite the storm, the company never cancelled the trip.
Instead, she said, the company kept sending updates via text, saying the cruise was still on but delayed by a day.
This slideshow requires JavaScript.
"The ship was still coming in and that we would still be on schedule for 4 o'clock on Monday," she said.
Her group made it to the northern outskirts of the Houston area before turning back around. Brewer said they only made it that far because they were worried they wouldn't get their money back.
"The insurance company told us that, if the cruise didn't cancel the trip, then weather wasn't bad enough, it didn't classify adverse weather unless that boat cancelled that trip," she said.
But, on Sunday, a text update from Royal Caribbean said the trip was cancelled.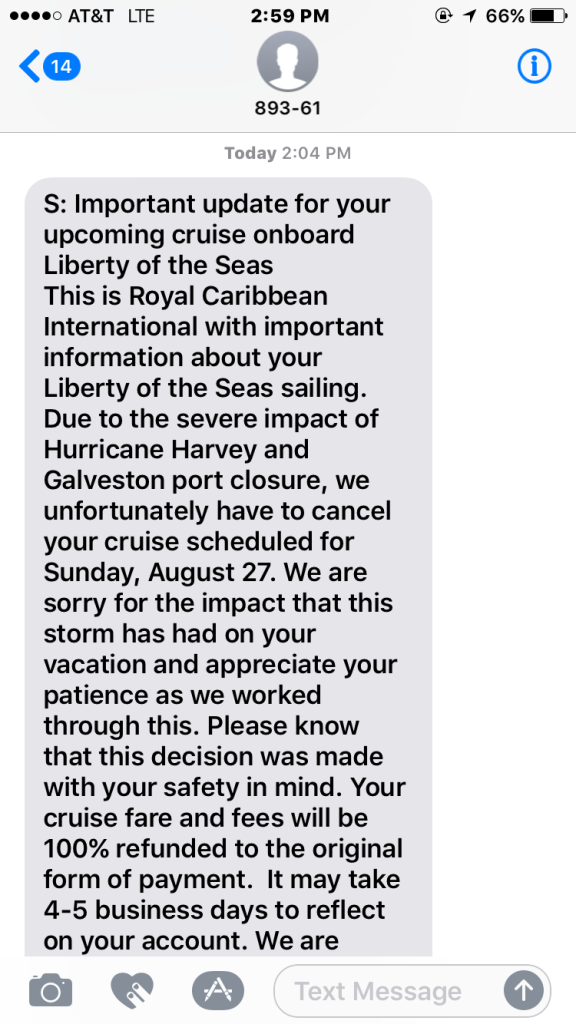 Brewer and her family have since made it to Dallas and are flying out on a different trip.
Royal Caribbean sent us this statement:
"Royal Caribbean International has decided to divert the itinerary of Liberty of the Seas to Miami until conditions near the Port of Galveston permit safe travel. The ship has been unable to make her scheduled return because the port has been closed by Hurricane Harvey. We anticipate Liberty will be able to return to Galveston Friday, conditions permitting. We are doing all we can to help guests adjust their travel arrangements and appreciate their patience during a stressful time.

The next sailing of Liberty of the Seas, originally scheduled for Sunday, August 27 has been cancelled, and all guests will have their fares fully refunded and have been provided with a future cruise credit."