This is an archived article and the information in the article may be outdated. Please look at the time stamp on the story to see when it was last updated.
ENID, Okla. – A 74-year old Enid woman was viciously attacked by two dogs and is still recovering in the hospital from her injuries.
She is still shaken by what happened and will likely spend a few more days in the hospital.
Charlene Fields said, "I thought, 'Well, they're going to kill me.' I immediately put my hands up over my face."
She now has a bandaged arm and leg, a scratch on her forehead, along with a fractured pelvis and bruised tailbone.
Fields is slowly recovering from her injuries.
She said, "This is one of the most painful things that's ever happened to me."
Fields was attacked last Friday by two dogs, a pitbull and pitbull-Sharpe mix.
A neighbor had just let the dogs out.
Moments later, Fields walked by and was attacked.
Capt. Jack Morris, with the Enid Police Department, said, "My understanding is the back fence is where the dogs got out and the back fence had been down for some time."
Fields said, "Just as I'm coming by that alley, I see them coming and I knew I didn't have a chance."
She was walking home when she saw the two dogs running toward her.
She said, "They were just on me that fast."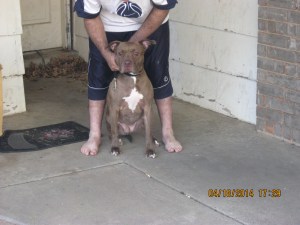 Capt. Morris said, "The owners of the dogs were able to hear her screaming and came out and saw the black pit bull attacking her."
The dogs' owner would not go on camera but says he is heartbroken by the attack and hopes Fields will be okay.
As for the dogs, they were surrendered to animal control.
Morris said, "The dogs were impounded by our animal control and it was determined neither dog was licensed. No shot record to determine if they'd had rabies shots. Per ordinance, they were destroyed."
Fields is hoping to go home soon and glad to know the dogs will no longer be a risk.
She said, "If anybody thinks those dogs won't hurt or kill you, they are certainly wrong because they weren't going to give up."
Police say the owners could face charges related to the attack and failure to have the dogs properly confined.
However, no charges have been filed at this time.