This is an archived article and the information in the article may be outdated. Please look at the time stamp on the story to see when it was last updated.
GRANITE, Okla. – Three inmates walked away from a corrections facility in Granite, Oklahoma.
Officials say 29-year-old Jody Elmore, 32-year-old Chad Adams and 22-year-old Jon Elliot walked away Wednesday morning from the Oklahoma State Reformatory.
Elmore was serving a three-year sentence for forgery out of McIntosh County. Adams was serving a seven-year sentence for carrying contraband into a jail out of Pottawatomie County. Elliot was serving a four-year sentence for conspiracy to commit a grand larceny out of LeFlore County.
Elliot was arrested at Quartz Mountain by a game warden.
Elmore and Adams are still outstanding.
Elmore is described as a bald, white male, around 6'2″, weighing about 180 pounds with brown eyes. Adams is described as a white male, 5'11", weighing about 161 pounds with brown hair and blue eyes.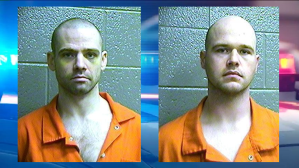 Officials say Elmore may still be in "clothing that identifies him as an inmate."
Anyone with information is asked to call the escapee hotline at 405-425-2698 or email warrants@doc.ok.gov.