This is an archived article and the information in the article may be outdated. Please look at the time stamp on the story to see when it was last updated.
OKLAHOMA CITY – Three children got a big surprise this week.
Through a partnership with Panera Bread and Baking Memories 4 Kids, 3-year-old Penelope Merideth, 5-year-old Kellan Wood and 9-year-old Callie Martin were all surprised Friday with an all-expense paid trip for them and their families to Florida.
Their trip will include three days at Disney World, two days at Universal Studios, one day at Sea World and one day at Lego Land.
"Through a partnership that launched April 3, 2017, Traditional Bakery, Inc. /Oklahoma City Bakery, Inc. franchise (TBI/OKC), Panera Bread bakery-cafes in Oklahoma, Northwest and Central Arkansas, and Southwest Missouri have given guests the opportunity to round up their purchase total to the nearest dollar. Proceeds from rounded-up transactions have been donated to Baking Memories 4 Kids. Additionally, during this year's holiday season, for each bag of Chocolate Chip Petite Cookies sold, Panera Bread will donate $1 to Baking Memories," a press release states.
Penelope's parents, Misty and Laura Merideth, say they always wanted a big family, and chose to adopt "eight amazing children in various degrees of special needs." Penelope, their youngest daughter, came to them at three months old weighing only four pounds. She is now three years old and suffers from Cerebral Palsy and Epilepsy. She cannot speak, eat or walk and is visually, mentally and hearing impaired, but "is one little fighter."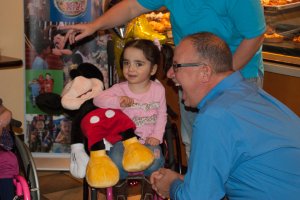 Kellan was diagnosed with Pallister Killian Syndrome, a life-threatening seizure disorder that can cause abnormalities in their physical appearance and delays in cognitive learning. He spends at least four days a week in doctor's offices trying to "maintain the disease that has several times almost claimed his young life."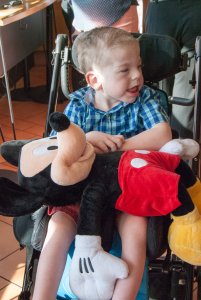 At two years old, Callie had her first seizure. After multiple hospitals and diagnoses, it was determined that she suffers from Lennox-Gastaut syndrome. It is a rare form of epilepsy that is resistant to most treatments. Now at nine years old, the seizures have left Callie with a significant amount of memory loss causing her forget a large part of her childhood.
If you would like to nominate a child with a terminal or life-threatening disease, click here.