This is an archived article and the information in the article may be outdated. Please look at the time stamp on the story to see when it was last updated.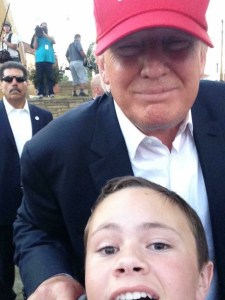 OKLAHOMA CITY — Quaid Morgan got the selfie he wanted with Donald Trump!
The 12-year-old fan of 'The Donald' used social media to make his request known.
Although he knew his "short arms" would be an issue, Quaid managed to snap a photo with his favorite Presidential candidate at the Oklahoma State Fair.
Trump is headed to the Oklahoma State Fair this Friday, and he's got one young fan who is pulling all the stops to make it to the front of the line.
Quaid Morgan is hoping this Facebook post grabs Trump's attention, and earns him a selfie with the Republican presidential candidate.
"He's very honest, and he's very all American I think," Morgan said. " I think that he'd be a very good president."
While most kids might wish to take a selfie with Justin Bieber or Taylor Swift, Quaid's mom said he's a 65-year-old man trapped in a 12-year-old's body.
Thousands are expected to watch Trump's speech, which could give Quaid a disadvantage.
"I don't really know how I'm gonna take it, since I have short arms," Morgan said.
Our crews will be covering Trump's visit to the Sooner State, and we may just catch a glimpse of one of Trump's youngest fans in the crowd as well.