This is an archived article and the information in the article may be outdated. Please look at the time stamp on the story to see when it was last updated.
SHAWNEE, Okla. - A hit-and-run killed a young child in Shawnee.
Late Wednesday night, police say a father was walking to the store while pushing his 3-year-old son in a stroller when they were both hit by a vehicle near Westech and Bryan Rd.
"We had a father pushing a stroller and they were both struck by a vehicle that fled the scene," said Lt. Lang, with the Oklahoma Highway Patrol.
The child, Andreis Tramble, died from his injuries and his father was raced to the hospital with broken bones.
Neighbors said this is a sad loss for their community.
"They walk down to the store probably four or five times a day," said Charlie Crane.
With this tragedy too close to home, these neighbors said they feel for the family who lost their loved one.
"It's just something that's always going to be on our mind to be more cautious," said Crane.
Witnesses claim to have seen a car race away from the scene.
"What caught my eye was a little white car with one headlight on the driver's side, banged up on the passenger side," said a witness who asked to remain anonymous.
Authorities do have a person of interest, Mark Dwayne Robbins, who is believed to be driving a white Mazda with dark tinted windows, black wheels, and an orange and black sticker in the center rear window.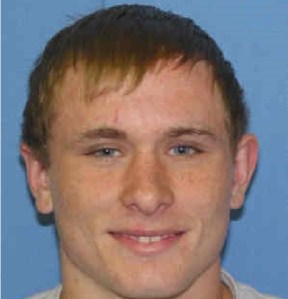 The car should have damage to the lower front side, with an Oklahoma tag 885DKL.
Witnesses said the driver was wearing a camo jacket, jeans and a red or orange hat.
The Oklahoma Highway Patrol is handling this investigation.
They are asking anyone who has any information about the driver or this crash to call 1-866-OHP-TIPS (1-866-647-8477) or the Pottawatomie County Sheriff's Office.