This is an archived article and the information in the article may be outdated. Please look at the time stamp on the story to see when it was last updated.
OKLAHOMA CITY - I-235 is set to close in March for two weekends in a row.
The two weekend closures will allow the contractor to safely hang the new steel beams for the N. 50th St. bridge over I-235 from March 2-5 and to remove the old BNSF railroad bridge over the interstate tentatively scheduled for March 9-12.
The closures are weather permitting and the second weekend closure must be closely coordinated with BNSF for the demolition of the existing railroad bridge after rail traffic moves onto the new bridge.
Starting at 7 p.m. Friday, all northbound and southbound lanes of I-235 will be completely closed between N. 36th St. and I-44, so that preparations can get underway to put the N. 50th St. bridge beams in place over the interstate.
Motorists also can expect the following ramp closures:
Eastbound I-44 to southbound I-235
Westbound I-44 to southbound I-235
Northbound I-235 on-ramp from N. 36th St.
The interstate is scheduled to reopen no later than 6 a.m. Monday, March 5, but potentially could open earlier.
Drivers will need to use I-35, I-40, I-44 and SH-74/Lake Hefner Parkway during this closure.
The same procedure will be followed the next weekend, pending railroad scheduling approval, to close I-235 from 7 p.m. March 9 through 6 a.m. March 12, with the potential to open earlier if possible.
Even once these closures are complete, I-235 will remain an active work zone between N. 36th St. and I-44 through 2019. Motorists can expect I-235 to remain open with two lanes in each direction during peak commute times, but the corridor remains narrow with little room to maneuver. Some additional lane closures may occur or traffic may shift as new lanes are added. Motorists are reminded to stay Off Broadway for the duration of the project if possible and use alternate routes.
DETOURS:
Motorists may use I-35, I-40, I-44 and SH-74/Lake Hefner Parkway as detour routes during the upcoming closures of I-235 between N. 36th St. and I-44.
Additionally, the City of Oklahoma City has provided N. Classen Blvd., N. Martin Luther King Ave., Reno Ave., N. 23rd St. and N. 36th St. as local detour routes.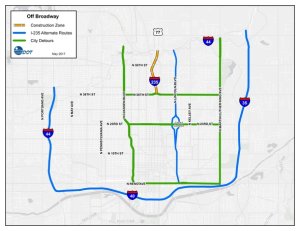 Due to lack of space and no available proximity to the work, there will be not a public viewing area on site either weekend.
The live stream video feed will be available here for the duration of both closures.