This is an archived article and the information in the article may be outdated. Please look at the time stamp on the story to see when it was last updated.
PEEBLES, Ohio. (WLWT) – A mother in Ohio says she thought it was safe when her son's preschool handed out little bags of candy to the students.
She never expected what happened next.
Chrissy Campbell said her 4-year-old son, Landon, opened a box of Milk Duds and asked, "What's this?"
Campbell said she took the box from him and started going through the other Milk Dud boxes in the bag.
"I opened up the second box; more bullets. I opened up the third box; more bullets. I opened up the fourth box; more bullets. I'm like, 'That's not a coincidence. That's not a mistake," she said.
Each box contained three bullets, which appear to be from a .22 caliber handgun.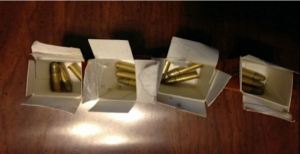 According to WLWT, Campbell was furious because the boxes of ammunition came from her son's preschool.
"I just want answers. I want to know why it was in my kid's treat bag. I want to know who did it," she said.
Campbell says parents were asked to bring in Halloween candy to school, which was then put into bags and given to the students.
Chief Robert Music, with the Peebles Police Department, says detectives are investigating the case and the prosecutor's office will determine if any charges are filed.
The school would not comment on the incident.