This is an archived article and the information in the article may be outdated. Please look at the time stamp on the story to see when it was last updated.
TULSA, Okla. – A police officer in Tulsa is being called a hero after the actions he took Monday morning saved the life of an infant.
Alan Franks, with the Tulsa Police Department, was one of a number of officers who saw smoke and flames coming from an apartment complex across the street from the police station's headquarters.
Franks said, "There were just flames everywhere, probably about six or seven feet high,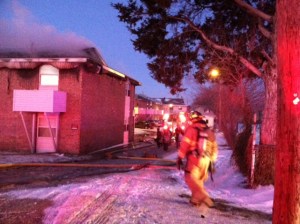 thick black smoke. You could barely see anything when I arrived."
Moments later, a woman ran up to him screaming.
He said, "She said, 'Help! Help! My baby's on the balcony."
The 19-year veteran of the force says he had no idea what he would be doing next.
Franks said, "One of the black males was cradling a little baby, 8 to 12-months-old, and told me, 'Catch my baby, I'm going to drop him down to you.' He put the baby in a laying position and dropped the baby down. I caught the baby."
The boy was bundled in a blanket and Franks did just what his instincts told him.
He said, "Never thought I'd be catching a baby when I came into work this morning."
Other officers worked to evacuate nearly 50 residents from the Whispering Oaks Apartments.
Residents like Jerry Moynihan were very grateful.
Moynihan said, "They were doing what they thought was best to do, which was get over there as fast as they could, save as many lives as they could and they did a wonderful job."
One family was especially thankful.
Franks said, "The dad came up to me later at the division, grabbed me, shook my hand, said, 'Thank you for catching my baby."
The Tulsa World reported only one person was taken to the hospital and about a dozen units were damaged in the blaze.
Investigators said the fire at the west end of the second floor was likely caused by an unattended cooking accident.