This is an archived article and the information in the article may be outdated. Please look at the time stamp on the story to see when it was last updated.
OKLAHOMA CITY – Two men were arrested after an Oklahoma County deputy noticed something strange on an Oklahoma City road.
Just after 2 a.m. on Wednesday, a deputy was in the area of I-40 and Douglas Blvd. when he noticed a car weaving along the interstate.
As he tried to pull over the car, the driver kept going along Douglas Blvd.
However, they weren't moving very fast.
Instead, the car was traveling about 20 miles per hour.
During the slow roll, the deputy saw the back passenger door open and a man hang outside the door.
He eventually fell out of the car and was run over by the driver in the parking lot of St. Anthony's East hospital.
At that point, 29-year-old Edmond David Spottedcorn stopped the car.
The deputy shouted at Spottedcorn to stay inside the vehicle, but he got out and walked into the hospital.
Officers arrested one passenger, 40-year-old Christopher Cornelius, and discovered a bb gun, several open beer cans and a box of unopened beer.
Authorities say Spottedcorn's license was revoked, he didn't have insurance and he had prior felony convictions.
Cornelius faces charges of possession of a firearm after felony conviction, possession of a firearm while under the influence and obstruction of justice.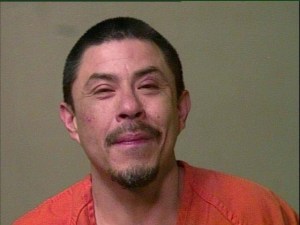 Spottedcorn is facing charges of DUI, assault with a deadly weapon, possession of a firearm after a felony conviction, possession of a firearm while committing a felony and possession of firearm while under the influence.
He is also facing charges for driving with a revoked license, transporting an open container, improper lane use, no insurance and obstruction of justice.
The man who was run over was treated and released from the hospital.
See a mistake? Report a typo here.