This is an archived article and the information in the article may be outdated. Please look at the time stamp on the story to see when it was last updated.
Updated 4/2/15 at 2:35 p.m.
LEXINGTON, Okla. – Cleveland County deputies arrested a couple in connection with the death of a Lexington teenager.
15-year-old Nicholas Faught died at a party last weekend allegedly hosted by Justin Moore and Tonya Moss.
Deputies arrested Moore and Moss earlier this week.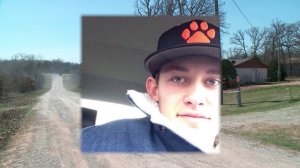 They were arraigned via video at the Cleveland County Courthouse Wednesday afternoon.
On Thursday,  Moss was charged with permitting invitee under 21 to consume alcohol, child neglect and a felony gun charge.
Moore was charged with permitting invitee under 21 to consume alcohol and a misdemeanor firearms charge.
According to the judge, Moss is the only one being charged with neglect because she left her child with Faught's body.
Investigators say they had several juveniles at their home drinking alcohol the night Faught died.
Authorities say Faught's death could have been prevented.
It happened at the home in the rural Cleveland County home of 34-year-old Justin Moore and 32-year-old Tonya Moss.
A neighbor told us the couple often has teens drinking on their property, especially in the building behind their home.
Deputies arrested the couple in a traffic stop Tuesday night.
"Allowing teenagers to consume alcohol, this eventually led to the death of Nicholas Faught, and this is something that could have been prevented," Cleveland County Sheriff's Office Spokesperson Meghan McCormick said.
Under Oklahoma law, a person who allows someone under 21 to consume alcohol, resulting in death, can be charged with a felony crime.
"He was a 15-year-old teenager who had a lot to live for and his life was cut short," McCormick said.
Deputies aren't saying how Faught knew the couple or how many juveniles were at the home when he died.
NewsChannel 4 has learned Tonya Moss was convicted a couple of years ago on drug charges, and Justin Moore is charged with accessory after the fact in a Pottawatomie County murder. He's due back in court on that charge later this month.
Authorities are urging people, especially parents, to never allow anyone under 21 to drink alcohol.
Grief counselors are on hand this week at Lexington High where Faught went to school.
The Medical Examiner's office is awaiting toxicology results.
We're told there are no signs of foul play.