This is an archived article and the information in the article may be outdated. Please look at the time stamp on the story to see when it was last updated.
TULSA, Okla. – A man and woman were arrested in New Mexico and extradited back to Oklahoma in connection to a 2002 murder.
66-year-old Joe Calvert and 37-year-old Shanna Ramsey were arrested in New Mexico on February 2.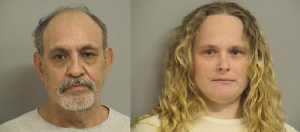 KJRH reports they have since been extradited back to Oklahoma and booked into the Tulsa County jail on murder charges.
Tulsa Police say on November 20, 2002, 31-year-old Latricia Fipps was reported missing. At the time, Calvert was her boyfriend.
Police say despite Fipps' body never being recovered, it was apparent that she was killed.
Investigators say Ramsey knew about the disappearance of Fipps.
Both Calvert and Ramsey face a charge of first-degree murder.