This is an archived article and the information in the article may be outdated. Please look at the time stamp on the story to see when it was last updated.
Bloomington, Ill. – The odds that an individual driver in the United States will crash into a deer during the next year have declined by 4.3 percent.
Using its claims data and state licensed driver counts from the Federal Highway Administration, State Farm, the nation's leading auto insurer, calculates the chances of any single American motorist striking a deer over the next 12 months at 1 in 174, compared with 1 in 167 the year before.
Among the 41 states where these confrontations are most likely, the decline in likelihood is particularly notable in:
1. North Dakota (24.8 percent)
2. Nebraska (22.0 percent)
3. South Dakota (12.6 percent)
4. Michigan (11.4 percent)
5. Kansas (11.3 percent decline) … [Chance of driver in Kansas hitting a deer in the next 12 months = 1 in 135 vs. 1 in 120 last year]
Although neighboring Missouri saw a decline in the odds of deer-vehicle collisions (1 in 115 over the next year vs. 1 in 114 last year), the Show-Me State went up a few notches and now ranks 15th in the nation for the greatest likelihood of a deer-vehicle strike (ranked 18th last year). Missouri is therefore considered a "high-risk" state.
Oklahoma dropped from No. 31 last year to No. 29, and the chances of drivers there hitting a deer in the next year are 1 in 207 (compared to 1 in 182 last year).
"This year's numbers represent some good news in traffic safety," said company spokesman Jim Camoriano. "There are likely several contributing factors to the overall decline, but we'd like to think the awareness we are bringing to deer-vehicle collisions each year is part of the reason."
Map of likelihood over next 12 months: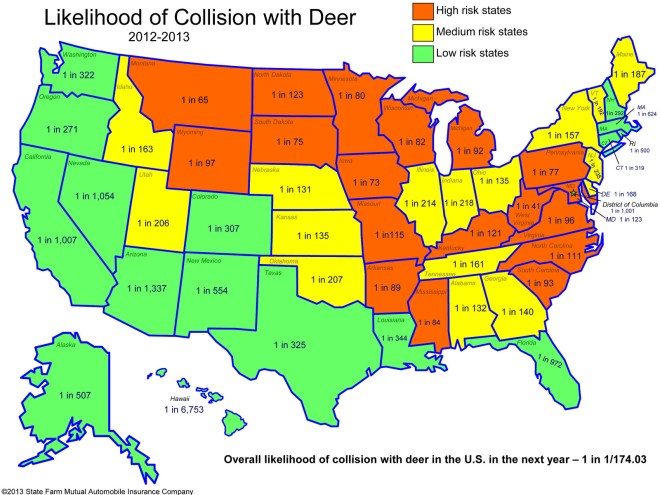 For the seventh year in a row, deer-vehicle confrontations are most probable in West Virginia. The chances of any single licensed driver in that state hitting a deer between now and a year from now are 1 in 41. That's an 8.3 percent improvement from the West Virginia likelihood ratio of a year ago.
The state in which deer-vehicle mishaps are least likely is still Hawaii (1 in 6,787). The odds of a driver in Hawaii colliding with a deer between now and 12 months from now are approximately equal to the odds of a middle-of-the-pack National Football League team running off 13 wins in a row.
COUNTING U.S. DEER-VEHICLE CONFRONTATIONS
State Farm estimates 1.22 million collisions caused by the presence of deer between July 1, 2012 and June 30, 2013, a 3.5 percent decrease from a year ago.
WHEN DO DEER-VEHICLE COLLISIONS OCCUR?
State Farm's data shows that November, the heart of the deer hunting and mating seasons, is the month during which deer-vehicle encounters are most likely. Approximately 18 percent of all such mishaps take place during the 30 days of November.
Deer-vehicle collisions are three times more likely to occur on a day in November than they are on any day between February 1st and August 31st. October is the second most likely month for a crash involving a deer and a vehicle. December is third.
The average property damage cost of these incidents during the final half of 2012 and the first half of 2013 was $3,414, up 3.3 percent from the year before.
AVOIDING DEER-VEHICLE MISHAPS
Here are tips from the Insurance Information Institute on how to reduce the odds of a deer-vehicle confrontation:
* Keep in mind that deer generally travel in herds – if you see one, there is a strong possibility others are nearby.
* Be aware of posted deer crossing signs. These are placed in active deer crossing areas.
* Remember that deer are most active between 6 and 9 p.m.
* Use high beam headlamps as much as possible at night to illuminate the areas from which deer will enter roadways.
* If a deer collision seems inevitable, attempting to swerve out of the way could cause you to lose control of your vehicle or place you in the path of an oncoming vehicle.
* Don't rely on car-mounted deer whistles.