This is an archived article and the information in the article may be outdated. Please look at the time stamp on the story to see when it was last updated.
OKLAHOMA CITY – If you live in Oklahoma, you've likely noticed a drop in earthquakes over the last several months.
However, the U.S. Geological Survey reports that the Sooner State is at a high risk of experiencing a damaging earthquake this year.
"The good news is that the overall seismic hazard for this year is lower than in the 2016 forecast, but despite this decrease, there is still a significant likelihood for damaging ground shaking in the CEUS in the year ahead," said Mark Petersen, chief of the USGS National Seismic Hazard Mapping Project.
The USGS states that the 2017 forecast decreased compared to last year, a fact they believe is related to a decrease in wastewater injection.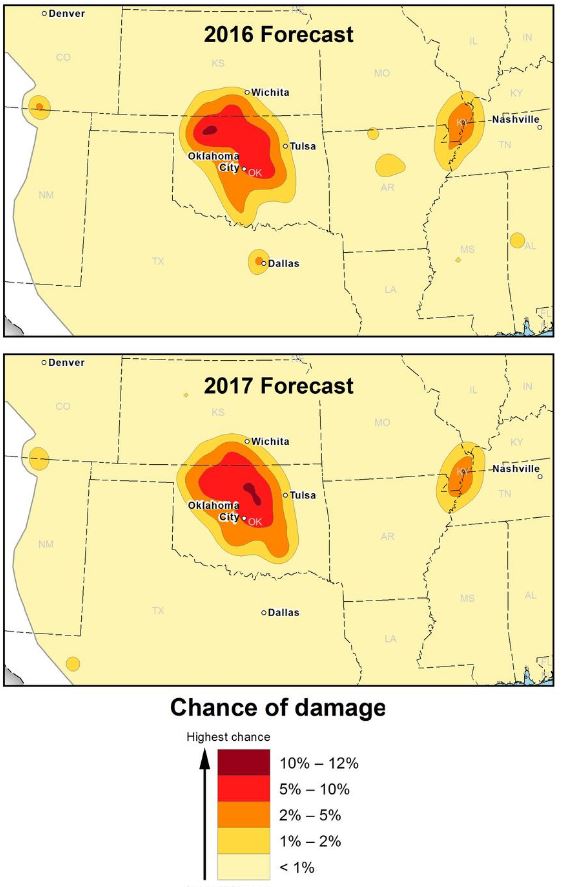 Despite the decrease, experts warn that Oklahoma experienced the largest earthquake ever recorded as well as the greatest number of large earthquakes compared to any prior year.
"The forecast for induced and natural earthquakes in 2017 is hundreds of times higher than before induced seismicity rates rapidly increased around 2008," said Petersen. "Millions still face a significant chance of experiencing damaging earthquakes, and this could increase or decrease with industry practices, which are difficult to anticipate."
The Oil and Gas Conservation Division of the Oklahoma Corporation Commission released the following statement:
"The United States Geological Survey (USGS) seismicity map for 2017 serves to confirm the validity of the work done in Oklahoma to reduce earthquake risk, as well as the need for the effort to continue. The Oil and Gas Conservation Division (OGCD) and the Oklahoma Geological Survey (OGS) are committed to seeing that the collaboration of researchers, regulators, and the industry in addressing this issue in Oklahoma continues. The USGS is a valued partner in that effort. To date, directives issued by the OGCD have reduced oil and gas wastewater disposal into the Arbuckle formation in the 15 thousand square mile earthquake Area of Interest (AOI) in Oklahoma by more than 800 thousand barrels a day and removed the potential for about 2 million barrels a day in future disposal. While the earthquake rate in Oklahoma has been declining, this remains our most critical issue and further actions can be expected based on the data."
Last month, the Oklahoma Corporation Commission issued a new directive for the oil and gas industry focused on limiting wastewater injection levels in the future.