This is an archived article and the information in the article may be outdated. Please look at the time stamp on the story to see when it was last updated.
UPDATE:  The state Senate passed a bill that would require the Oklahoma Highway Patrol to abide by the state's open records law.
House Bill 2676 would make dash cam footage open to the public.
The measure passed the Senate 38-4 with a few amendments.
It now heads back to the Oklahoma House for consideration.
OKLAHOMA CITY -- Oklahoma State Sen. David Holt has filed a bill aimed at removing a special loophole which allows the Oklahoma Highway Patrol to keep their dash camera videos under lock and key.
NewsChannel 4 first started investigating this peculiar loophole last year.
Here is our special report from last year.
The OHP dash cam exemption first became law back in 2005.
After our special report aired, a number of state lawmakers started working on a bill to reverse the loophole.
In Oklahoma, all law enforcement agencies are required to release the video record of an arrest.
Click here to read the applicable portion of the Oklahoma Open Records Act.
According to state law, and a recent State Supreme Court ruling, dash cam video is a public record in the State of Oklahoma.
Dash cam video should be made available to the public, when requested.
"I have been fighting the transparency battle for years, but I didn't know about this specific exemption until you brought it to my attention." said republican State Senator David Holt.
Holt is now trying to reverse the OHP exemption.
Holt filed SB 1513 Tuesday removing the special treatment for The Highway Patrol.
"We as a public have a right to know. These are people we have entrusted with incredible power. These are individuals have the power to take your freedom away. If we have gone to the taxpayer expense of putting a camera in their car we ought to have the right to see what they're doing." Holt said.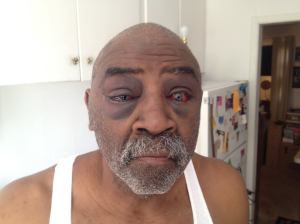 The filing comes on the heels of some national press about a violent OHP arrest in Oklahoma City.
Pearl Pearson, 64, is profoundly deaf and claims he was brutalized by OHP Troopers during a traffic stop because of his disability.
"It's only OHP that has exemption. Its' not right. It's not defensible, and we saw two weeks ago with the incident in Oklahoma City exactly why we need to change the law." Holt said.
The Oklahoma Municipal League Executive Director, Carolyn Stager issued this statement Wednesday about the proposal to remove the OHP exemption:
"Video recording is an issue important to several municipalities and has been discussed by the OML Legislative Committee. However, at this time, OML is not seeking to introduce legislation on this topic. We do believe this is an area that needs further study and will continue to work with the various interested parties to continue this discussion during the upcoming legislative session."
Late Wednesday, the Oklahoma Highway Patrol released this statement.
"Should the Open Records Act be amended as proposed, the Department will continue to comply with its obligations under state and federal law regarding the disclosure of records and information."
Captain George Brown
Commander, Public Affairs

---