This is an archived article and the information in the article may be outdated. Please look at the time stamp on the story to see when it was last updated.
OKMULGEE, Okla. – An Okmulgee County Jail employee was arrested after allegedly soliciting an undercover detective, who was posing as a pre-teen, for sex.
The investigation began in mid-March after a detective, posing as a pre-teen, began talking to a man, 28-year-old Joshua Caudle.
During a two-week time period, numerous conversations took place between the detective and Caudle.
Caudle had started a conversation with the detective "via a specific internet profile, which he apparently later deleted." He then started talking to the detective again through another profile.
Investigators say Caudle "expressed an interest in a sexual encounter with the underage female."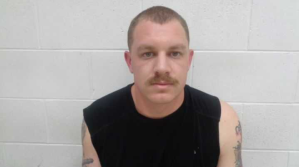 The detective and Caudle set a time and place to meet.
On Tuesday, investigators followed Caudle leaving the jail and arrested him at the location where he was supposed to meet the "pre-teen."
At the time of Caudle's arrest, he was still in his jail uniform, armed with a handgun and wearing body armor.
He was booked into the Okmulgee County Jail on charges of electronically soliciting a minor for sex, possession of a firearm while in the commission of a felony and wearing body armor while in the commission of a felony.