This is an archived article and the information in the article may be outdated. Please look at the time stamp on the story to see when it was last updated.
COMANCHE COUNTY, Okla. - The breathtaking views from Mount Scott and the beauty of the Wichita Mountains Wildlife Refuge near Lawton draw visitors from all over.
"It's lovely. I mean it's one of the only places you can come see the whole horizon of Oklahoma. You can see the curve. It's great," said one park visitor.
They come for the nature - and don't expect to see graffiti spray painted on the side of the huge boulders on the mountain.
"Childish. You know, people just, they don't care any more about other people's property or nature," said Ryan McClosky.
Forty-five eastern red cedar trees in the parallel forest were hit. The graffiti included pentagrams and the names 'Chico' and 'Carter.'
Park ranger Randy Hale led the effort this past weekend to clean the trees.
"We dampened it, and we took a wire brush and, as gentle as we could, sometimes, we had to get a little bit aggressive with it," Hale said.
After hours of scrubbing, most of the spray paint is gone. But, it remains on the rocks up on Mount Scott.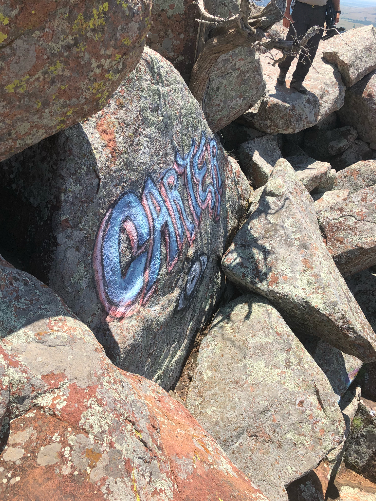 Although it's in two separate areas, park rangers believe the graffiti was the work of the same vandals.
"Exact same names, colors of paint the same, timing is pretty close. We really can't narrow down exactly when this happened, but I think it was in the last two weeks," Hale said.
A hiker alerted park rangers to the vandalism, and they said they rely on the public for help combating the problem.
"If the general public don't help protect it, these things will go away. And, if someone's not out here concerned about the graffiti, everything you look and see will be graffitied. Our children will not have the same environment or the same natural resource that we had to appreciate," said park ranger Quinton Smith.
"We have employees out here that are dedicated. It's just part of their DNA to take care of the place, and then you see something like this happens and you know it's stabbing you just a little bit," Hale said.
The refuge is on federally-owned land, so the vandalism is considered a federal crime.
Park rangers are asking anyone with information to contact the Comanche County Sheriff's Office.