This is an archived article and the information in the article may be outdated. Please look at the time stamp on the story to see when it was last updated.
[protected-iframe id="e48ffa429741b30974fe7b328177e760-29519643-62065474″ info="http://eplayer.clipsyndicate.com/embed/iframe?aspect_ratio=16×9&auto_next=0&auto_start=0&page_count=4&pf_id=8648&pl_id=17047&rel=3&show_title=0&tags=vertical_news&va_id=5450665&volume=8&windows=1″ width="425″ height="330″ frameborder="0″ scrolling="no"]
This photo has been seen by millions of people around the world.
It shows 98-year old Justus 'Jay' Belefield wearing his Army uniform and saluting from his bed on Veterans Day.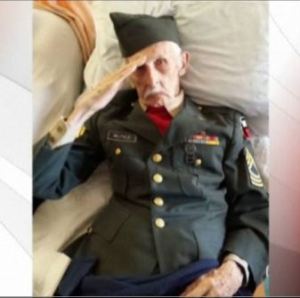 According to WNYT, Belefield often wore the uniform on Veterans Day and any other occasions that presented themselves.
But hours after the photo was taken, he died.
Belefield was laid to rest Friday morning at Saratoga National Cemetery in New York, with full military honors.
His grandson played Taps, using the bugle that his grandfather used in the military more than 70 years ago.
"That was his plan, to make it through Veterans Day, and he did it. End of story," said son-in-law Robert Stubbs.