This is an archived article and the information in the article may be outdated. Please look at the time stamp on the story to see when it was last updated.
SHERMAN, Tx. -- Country music star Randy Travis has been released from jail following a DWI arrest Tuesday.
Travis was arrested after police say they found him naked and lying on a remote stretch of roadway following a one-car crash.
Travis was charged with driving while intoxicated, a misdemeanor crime in Texas.
He was also charged with felony retaliation, after allegedly threatening to fatally shoot state police.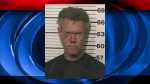 Police say he drove off a highway near his hometown and hit several barricades in a construction zone.
This is Travis' second alcohol-related arrest this year.