This is an archived article and the information in the article may be outdated. Please look at the time stamp on the story to see when it was last updated.
WAUKESHA, Wis. – Officials for a literary website are speaking out after two 12-year-old girls accused of plotting and attempting to murder one of their friends mentioned CreepyPasta.com when questioned about the stabbing.
They said they had something to prove to someone they found on a ghoulish website.
So, two girls allegedly lured a third girl into a wooded area in Waukesha, Wisconsin, over the weekend and stabbed her 19 times, police said.
The suspects allegedly left the victim to crawl to her own rescue.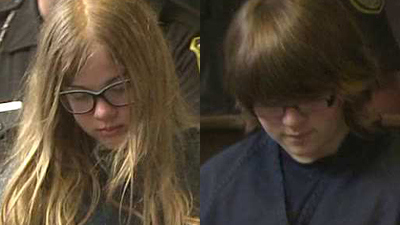 The three girls, all 12 years old, were friends, according to a criminal complaint.
A bicyclist found the wounded girl alive Saturday, lying on a sidewalk in Waukesha, Police Chief Russell Jack said.
She is in stable condition at a local hospital.
The girls were trying to impress a certain "Slenderman," the complaint read.
One of the girls encountered the name on a website known as Creepypasta Wiki, which posts horror stories.
Slenderman is the site's supposed leader, and to climb up into his realm, a user must kill someone, one of the suspects told police.
The fictional Slenderman character is an Internet meme that often appears in horror stories, videos and images.
Tuesday a lengthy statement was posted on www.CreepyPasta.com.
Click here to read the entire statement on CreepyPasta.com
The statement expressed condolences for everyone involved and stressed that the site does not condone or encourage violence in any way but also noted that "it's hard to justify pinning blame on an entire genre of writing."
Here is a short excerpt of the post on CreepyPasta.com: 
I've recently been alerted to the horrific events that took place in Wisconsin.
I've received both messages of concern and blame, and while it seems that the Creepypasta Wiki is bearing the brunt of media attention and finger-pointing, I feel it's necessary for me to make a statement.
First and most importantly, my condolences go out to all the families involved. I cannot even imagine how painful and confusing and awful this has to be for them. I don't have children, but I can imagine how my mother would feel if something like this happened to me, and it absolutely breaks my heart to even consider her having to go through that. The families of the young ladies who committed this crime also have my heart going out to them – I know this can't be easy for them as well, and I'm sure they'll have to deal with mistargeted backlash and anger even while they try to get through such a trying time themselves. So when I say that I extend my deepest sympathies and my prayers to those affected, I hope that you understand that I mean it. I know that words can seem hollow or come off as mere lip-service to the cynical, but it's the truth.
Creepypasta Wiki also addressed the stabbing in a blog posted early Tuesday morning. The post, titled "Fiction, Reality, and You," calls the stabbing an "isolated incident" that does not "represent or attribute the Creepypasta community as a whole."
"This wiki does not endorse or advocate for the killing, worship, and otherwise replication of rituals of fictional works. There is a line between fiction and reality, and it is up to you to realize where the line is. We are a literature site, not a crazy satanic cult."
"For most of you reading this, you're probably thinking this is a no-brainier that stories here are mere fiction and know that they are just mere fiction. This blog addresses to newcomers and "die-hard believers", who will otherwise, likely to believe in these stories."
"Hopefully, the gruesome crime that happened in Wisconsin will not repeat itself again, and our hearts go out to the families affected by this crime."
Allegedly planned
The two were arrested hours after the victim was discovered Saturday, and they were being held on preliminary charges of attempted first-degree intentional homicide.
The complaint identified the girls as Morgan Geyser and Anissa Weier.
They are being charged as adults and appeared in court Monday. Bail was set for each in the amount of $500,000, Waukesha County District Attorney Brad Schimel said.
Anthony Cotton, Geyser's attorney, told CNN on Tuesday that he's spoken briefly with her.
She is housed at a juvenile facility for females, he said, and the girl's family is in "shock."
Geyser has not had a mental evaluation yet, but her lawyer expects her to be given one soon.
Attempts to contact an attorney for Weier were unsuccessful Monday and Tuesday.
The suspects attended the same middle school as the victim and had a sleepover at the home of one of the suspects Friday night, Jack said.
"Both suspects had a fascination with a fictitious character that often posted" to websites dealing with stories about death and horror, the police chief told reporters at a news conference.
According to the criminal complaint, the suspects had been planning the attack since February.
They first thought to kill the victim by placing duct tape over her mouth while she was sleeping and stabbing her in the neck, the complaint read.
Next, the plan was to kill her in a bathroom where there was floor drain that could make cleanup easier, it continued.
But, finally, the girls decided to do it in a park while playing a game of hide-and-seek, the complaint read.
It states: "As they left for the park … (the victim) was walking in front of them and Geyser lifted up the left side of her white jacket and displayed the knife tucked in her waistband. Weier stated she gave Geyser a look with wide eyes and, when asked what that meant Weier stated, 'I thought, dear god, this was really happening.' "
'One millimeter away' from death
Some of the victim's major organs were struck.
One of the stab wounds was near her heart, and she was "one millimeter away from certain death," the complaint read.
According to the complaint, the victim told the bicyclist who found her: "Please help me. I've been stabbed." She was in extreme pain and could only answer questions with yes or no.
Authorities searched for the two other girls, and a sheriff's officer found them walking near Interstate 94, Jack said.
He declined to say whether the suspects had blood on their clothes, but added: "There was evidence that was readily apparent when the two were taken into custody."
That evidence included a large kitchen knife inside a purse that Geyser identified as one of her mother's old purses, according to the complaint.
Both girls spoke readily with police, the complaint said.