This is an archived article and the information in the article may be outdated. Please look at the time stamp on the story to see when it was last updated.
OKLAHOMA CITY – For the last time in her career, Gov. Mary Fallin gave a 'state of the state' address before lawmakers on Monday afternoon.
Monday marked the start of the regular legislative session. However, lawmakers are currently involved in a second special session in order to come up with a balanced budget for state agencies.
In September, the Oklahoma Supreme Court ruled that a $1.50-per-pack 'cigarette fee' was unconstitutional after lawmakers passed the revenue raising measure in the final five days of a legislative session without a 75 percent majority vote.
After the ruling, lawmakers were called back to the Capitol for a special session to address the $215 million budget hole left by the Court's decision.
For two months during the special session, legislators were unable to pass revenue bills out of the House of Representatives. Instead, their final plan was to use state cash and cuts to state agencies to fix the current budget hole.
In November, Fallin vetoed most of a revised budget bill from a first special session. That budget bill included cutting $60 million from state agencies while also using $23 million in Rainy Day funds, $23 million in carryover cash from last year and $60 million through revolving money to bridge the $215 million gap.
In December, lawmakers convened for a second special session but have yet to come up with a budget plan.
On Monday, Fallin addressed the unusual circumstance of lawmakers being called to the start of the regular session while concurrently serving in a special session.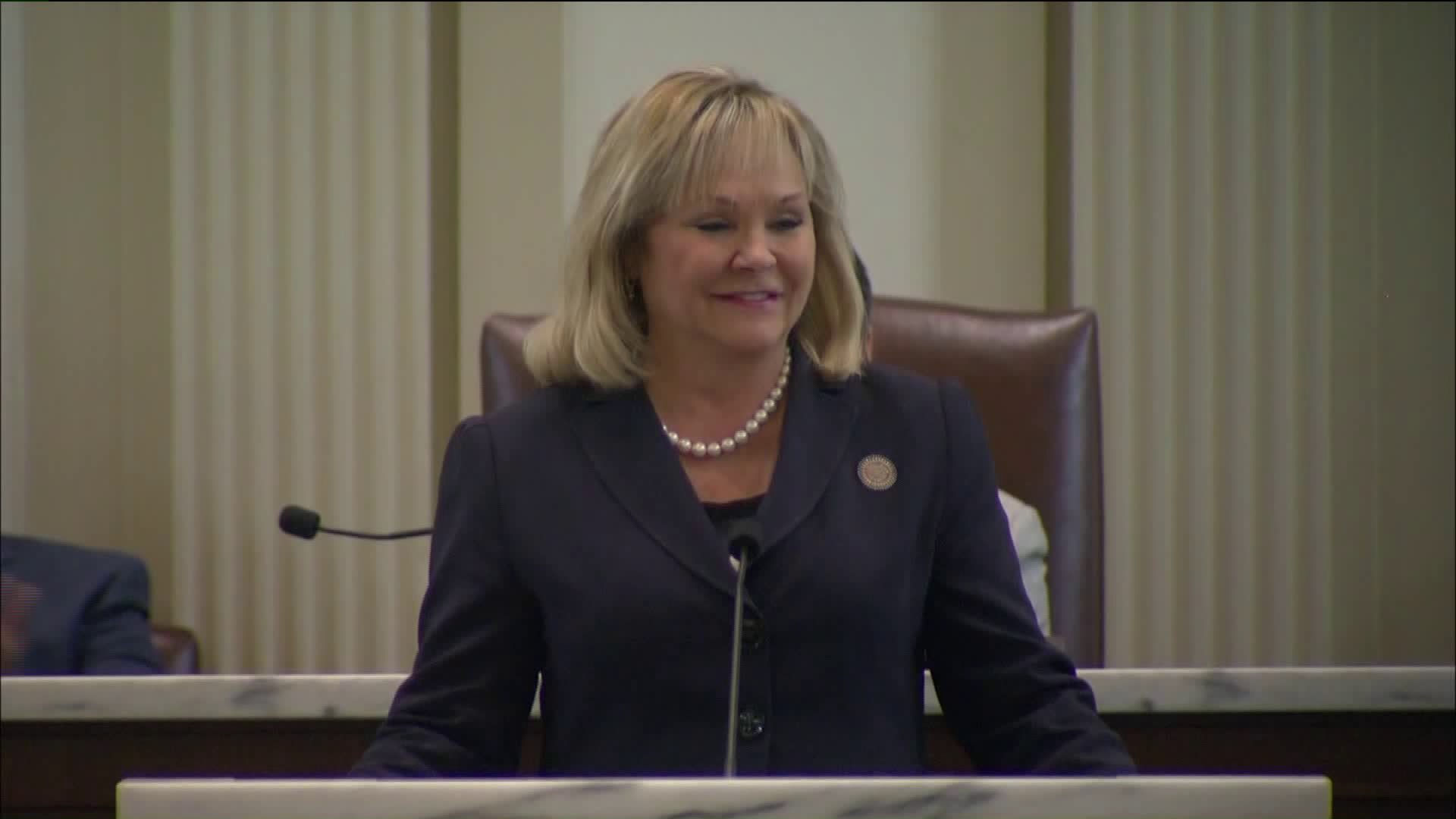 "Let us make no mistake about it: This is [a] historic, defining moment before us. What we do as a unified group of people elected by the citizens of our state could be considered the moment in time that changed Oklahoma," Fallin said. "We are in a unique period as this legislative session begins with a concurrent special session. We also are at a special point in Oklahoma's journey because the prospect of a brighter path forward is so very near."
Fallin addressed the Step Up Oklahoma plan, a budget plan designed by a bipartisan group of citizens and business leaders in the community.
Under the proposal, "Step Up Oklahoma" is advocating a plan that will affect taxes on the following:
Tobacco
Motor fuels
Wind-power generation
Personal income tax
Refundable income tax credits
Gaming activities
Gross production tax on energy companies.
"There  are parts of what is proposed that we may want to embrace, and there are parts that we may want to reject. Our goal this session should be to fix our chronic budget crisis and address important policy goals," Fallin said. "We know there are no perfect solutions or plans. We know there is no perfect legislation. But, we also know that compromise is at the very core of the budget on which you will vote. Just as compromise formed the foundation of America, I believe compromise can fortify the foundation of Oklahoma."
"Our state is at a crossroads. The actions we take will be a game-changer. It is time to decide which future we want our families and children to have. One path would be to continue year after year with an air of uncertainty that consumes our thoughts, drains our hopes – like the old saying of robbing Peter to pay Paul- then Paul runs out of cash. If we are to effect change, we can't keep doing the same old thing and expect a different result. That path will lead to more chaos at the Capitol. We have to ask ourselves- what kind of future do we want to have? Do we find it acceptable to have four-day school weeks? Is it acceptable for Texas to steal our teachers and leave our classrooms short of teachers? We all know Oklahomans expect us to beat Texas – on and off the football field! Do we just accept that without a budget fix, we will just cut provider rates and other essential health and human services for our most needy and vulnerable citizens? Do we believe the only solution to helping our mothers and fathers and sons and daughters and friends who are not violent, but need substance abuse treatment, is to warehouse them in prisons? Or will our state be more successful if we help them put their families back together, get jobs, and become taxpayers?" Fallin said.
"We can do better and we must do better," she added.
Fallin called on lawmakers to support and pass the Step Up Oklahoma plan, even if they don't agree with all of its proposals. She added the many of the proposals actually go against the financial interests of the organizers of the plan.
"The time to act is now. No more delaying. No more putting things off. No more kicking the can down the road. No more addressing long-term budget problems with short-term solutions," she said.
Protesters disrupted the end of the 'State of the State' address.