This is an archived article and the information in the article may be outdated. Please look at the time stamp on the story to see when it was last updated.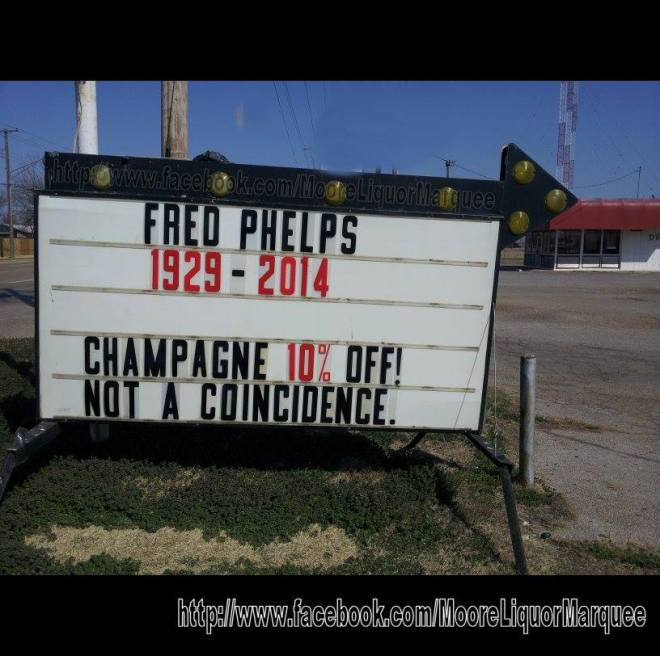 UPDATE: Another group is joining in the Westboro Baptist Church vs. Moore liquor store picket.
One person started the effort and it is spreading like wildfire.
Oklahomans against the Westboro Baptist Church will be gathering at Moore Liquor this weekend when the Kansas-based organization is scheduled to protest.
They will be taking donations for the Wounded Warrior Project Saturday starting at 10 a.m.
Everyone is invited to support Oklahomans and our military; you don't have to shop or make a donation to attend.
Organizers said they are just hoping for a crowd to enjoy the music, food and company.
The church announced its trip south on Twitter after the Moore store advertised a champagne sale to mark the passing of the church's founder, Fred Phelps.
MOORE, Okla. – In the wake of its founder's passing, the Westboro Baptist Church has announced it plans to picket a Moore liquor store.
According to Moore Liquor's Facebook page, the store posted a sign marking the death of the church's founder, Fred Phelps.
The store was offering a discount on champagne to celebrate the occasion.
Now the Westboro Baptist Church has announced on Twitter it will be in Moore, Oklahoma, April 5 to protest.
The Moore liquor store is inviting anyone and everyone to counter-protest if they feel the urge.