This is an archived article and the information in the article may be outdated. Please look at the time stamp on the story to see when it was last updated.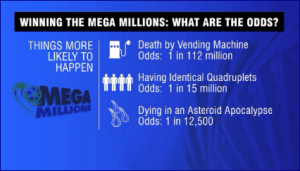 People all over the country are hoping they'll wake up tomorrow as multi-millionaires.
But the odds are definitely not in their favor for tonight's 425 million dollar Mega Millions Jackpot drawing.
In fact, the odds of winning are about one in 259 million.
You can see here a list of things that are more likely to happen to you.
Including death by vending machine, having identical quadruplets and dying in an asteroid apocalypse.
No on has wont the Jackpot in the last 20 drawings. In fact, there hasn't been a Mega Millions winner since October when changes were made to the drawing.