This is an archived article and the information in the article may be outdated. Please look at the time stamp on the story to see when it was last updated.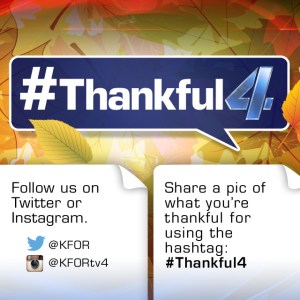 'Tis the season to give thanks! We want you to share with us all you hold dear.
Follow us on Twitter @KFOR or Instagram @KFORtv4 and share a picture of what you are Thankful For using the hashtag #Thankful4
You might see it online and on-air!
We will also be sharing things we are grateful for this season.
I am #Thankful4 the beautiful colors fall has to offer (: pic.twitter.com/ebV7TqZ2h6

— Olivia Mitchell (@OliviaDianeMitc) November 17, 2014
I'm thankful for KFOR always being reliable for the best news! #thankful4

— TreBob (@Trebob2011) November 17, 2014