This is an archived article and the information in the article may be outdated. Please look at the time stamp on the story to see when it was last updated.
OKLAHOMA – Thanksgiving is right around corner, so what are Oklahomans most curious about and can't stop Googling when it comes to the holiday?
CenturyLinkQuote used Google Trends to look at search volume around Thanksgiving-related terms throughout November 2017. They determined each state's score based on how much more a state searched that term than the other states.
As for the Sooner State, and other southern states, Oklahomans are most curious about pecan pie!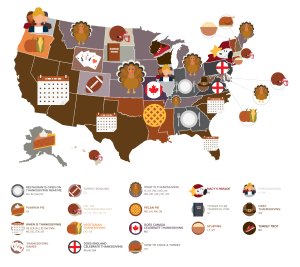 Restaurants open on Thanksgiving near me
Alabama
Indiana
Georgia
Kentucky
Pumpkin pie
When is Thanksgiving
Arizona
California
Florida
Idaho
Nevada
New Mexico
North Carolina
South Carolina
Texas
Utah
Turkey bowling
NFL on Thanksgiving Day
Delaware
Hawaii
Massachusetts
North Dakota
Rhode Island
Vegetarian Thanksgiving
District of Columbia
Oregon
What is Thanksgiving
Iowa
Kansas
Maine
Maryland
Michigan
Minnesota
Montana
Nebraska
Ohio
Tennessee
Pecan pie
Mississippi
Louisiana
Arkansas
Oklahoma
Does Canada celebrate Thanksgiving
How to cook a turkey
Does England celebrate Thanksgiving
Pennsylvania
New Jersey
Virginia
Macy's Parade
Things to be thankful for
Stuffing
Friendsgiving
First Thanksgiving
Turkey trot
Thanksgiving games